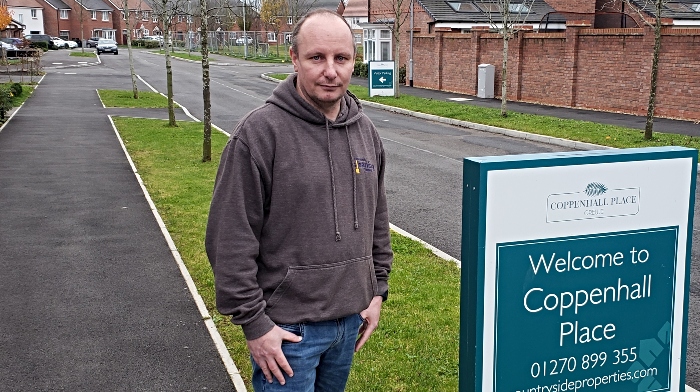 Residents whose new homes are unsaleable because of developer and council failures over contaminated land issues, could seek a judicial review if Cheshire East grants planning permission for the scheme, writes Belinda Ryan.
The recently built 263-home Coppenhall Place, on the site of the former Crewe Works off West Street, was granted planning permission in 2018.
But that permission was lost last year because developer Countryside Partnerships failed to deal with a condition relating to contaminated land.
Since then, people living on the estate have had their lives turned upside down.
They are unable to sell their properties, they can't insure them and they have not been able to re-mortgage on lower fixed-term rates during the financial crisis.
One couple, who didn't want to be named, told the Local Democracy Reporting Service how their plans to foster children had even been impacted.
""They were worried about the contaminated land issue. They've accepted it now because we've had some independent tests done on the garden," said the resident.
In March, Countryside applied to Cheshire East for retrospective planning permission to regularise the development.
The council's planning officers recommended this be approved but the strategic planning board deferred the application asking for a peer review to double check potential contamination issues.
Councillors also asked for an open book viability financial assessment to see whether it was appropriate to ask the developer for further financial contributions.
The application is due to be considered again by Cheshire East on Wednesday. And again, the council's planners have recommended it be approved.
The planning officer's report states the peer review did reveal there were some issues.
But it adds: "Environmental protection are now satisfied that the site is suitable for a residential end-use.
"Remedial measures including provision of venting and a clean cover system are in place at all plots within the development and it is imperative that these are maintained.
"We therefore request that permitted development rights are removed that pertain to any potential works that would involve breaking ground or further construction."
But residents have warned they could legally challenge the council if it approves the application and issued a statement which says: "With the council planning to review the application, residents are resolute in their stance.
"Should the council approve the planning without ensuring safety and compliance, the residents are prepared to escalate their fight to a judicial review."
They have clubbed together to pay for independent legal advice and have also paid for independent planning consultants.
Resident David Simcox said: "They were supposed to be ready four months ago to go to planning but the environmental health officer then requested that 10 houses get tested and 40 per cent of those failed and they had to redo the garden. This is our concern.
"If it [the planning application] does get passed and we don't feel reassured then the only other option would be to go to a judicial review, which is what the lawyer has advised us.
"That's the best way forward. The proper process would be to see if we can get the councillors to defer it and, if that fails, go to a judicial review."
Residents say they feel betrayed by Countryside Partnerships which caused the initial problem and let down by the council which allowed Countryside to continue building without the condition relating to contaminated land being discharged.
They say they have had sleepless nights over the insurance issues.
Mr Simcox told the LDRS: "We're not insured for the building itself, so every time there's thunder and lightning or fireworks, for example, all the residents are really scared to death."
The strategic planning board will consider this application on Wednesday November 22 at 10am at Crewe's Municipal Buildings.
(Picture by Belinda Ryan, LDRS)