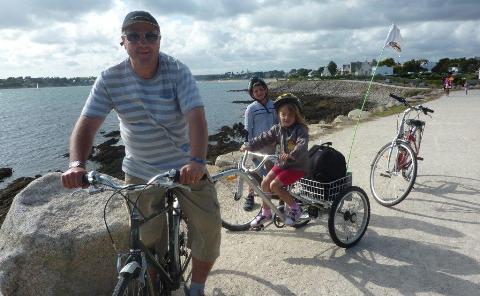 A Nantwich dad is saddling up to pedal nearly 180 miles from London to Paris in aid of Cheshire-based charity Railway Children.
Kostia Medovnikov, from Stapeley, is taking on the huge challenge in the hope of raising £1,300 for the charity, which was founded in Nantwich.
Kostia, 43, who was born and grew up in Ukraine, is now in training before he sets out on the three-day ride on July 6. He also needs to raise more than £1,000 in sponsorship before the ride.
He will part of a group of nine dedicated to the fund-raiser, including his export director and general manager of his workplace, Knutsford-based Stirling Lloyd Polychem Ltd.
Pear Tree Primary School in Stapeley, where Kostia's two children Matthew and Sasha attend, has agreed to hold a non uniform day to help him raise the money.
He said: "I'm not doing this for myself, I'm doing it for the kids in India, East Africa and the UK who need our support through Railway Children.
"This is a big commitment for me as I've never been on a bike for much of a distance, let alone London to Paris!
"If you were impressed by John Bishop you've not seen anything yet!"
Railway Children was founded in 1995 in Nantwich and has grown into a registered UK charity which supported over 25 000 vulnerable children last year alone and at risk on the streets of India, Tanzania, Kenya and here in the UK.
The charity, now based in Sandbach, aims to provide protection and opportunity for more children with nowhere else to go and nowhere to turn.
In India, there are around 11 million children living and working on railways and the streets. In a 2009 survey, it was estimated that around 112,000 new children arrive on railway platforms each year.
Thanks to Railway Children, one of these stations, Lucknow in the North is now 'child-friendly'.
This means a network of stakeholders now monitors the station for unaccompanied children and notifies outreach staff before taking the child to a newly-created child protection booth.
To sponsor Kostia and help him raise £1,300, visit http://uk.virginmoneygiving.com/team/Stirlingsaddlesore
(Pic: Kostia out training with his children Matthew and Sasha!)