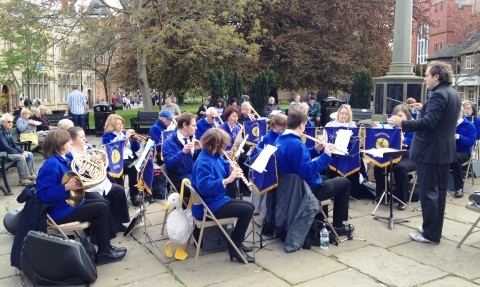 Nantwich Town Counil is hoping to welcome visitors to the town with a programme of street entertainment this summer.
Councillors and retailers hope the events will enhance the shopping experience in the town centre.
And Nantwich and District Band (pictured) kicked off the programme by wowing crowds with a variety of musical treats on the square.
Every Saturday until October 13 between 11am and 2pm the town centre will host a free programme of entertainment including music, dance, theatre, art and special attractions for youngsters.
"The programme has been devised to please everyone from all age groups," said a council spokesman.
"It helps to make the town centre more vibrant for people to enjoy and celebrate a sense of pride in the town."
This Saturday May 19, Nantwich-based X-Academy will be on square performing dance and song for shoppers.
Other events to look forward to include  "Societies Spectacular/ Join a club day" on July 21, the Nantwich Town Crier competition on July 28,  the Nanntwich Food Festival in September and  Nantwich Words and Music Festival in October.
For a full list of events click here
(pic courtesy of Jonathan White)