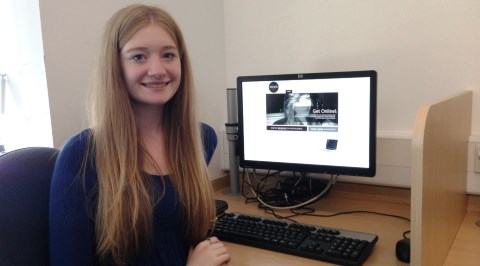 A teenage entrepreneur from Nantwich is taking the web world by storm by expanding her internet design company.
Brine Leas Academy student Rachael Farrington launched "Rachael Design" from her bedroom in Cholmondeley when she was just 13.
Now the 17-year-old's web design and social media company has moved to a new base in Williamson Drive, Nantwich after securing contracts with local firms.
The business aims to provide affordable website design and social media management for small firms in the South Cheshire and Shropshire area.
She has already created successful websites for a list of companies, including Whitchurch-based Lorna's House, Butterfingers Cakes, Dolly Blue Bridal and more.
"I came up with the idea aged 13 after my dad first installed broadband," she said.
"I've always wanted to run my own business and found making websites was something I could teach myself.
"I run the business part time from my parent's homes in Cholmondeley and Nantwich, where I have an office in each!"
Rachael's design and business acumen has caught the eye of Tracy Thomas, from ThisLadyLoves.com, who asked Rachael to speak at one of her events.
James Caan, of Dragon's Den fame, selected Rachael as a finalist and an eventual second place in a recent competition for young business minds.
Rachael, who went to Bishop Heber High School before switching to Brine Leas Sixth Form, hopes to study Politics at university.
Visit her website at www.rachaeldesign.co.uk