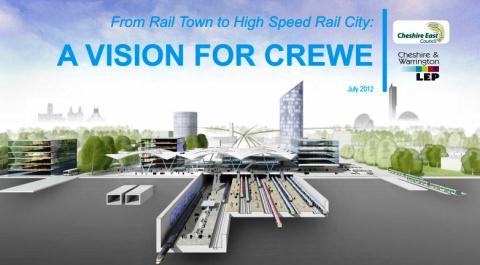 Crewe looks to be winning the race to secure a second phase of the HS2 rail line, despite a specialist college linked to the project going to Birmingham.
Reports suggest chairman of HS2 Sir David Higgins is set to announce that the second phase linking to the North West should run through South Cheshire rather than Stoke-on-Trent.
It would bring to an end a war of words between Cheshire East Council and Stoke City Council over where a major station along the Y-shaped and second northerly section of the high-speed route should be located.
But hopes South Cheshire would also be the location for one of two specialist engineering colleges set-up for the high-tech HS2 project have been dashed.
The Government has announced these will be in Birmingham and Doncaster.
Cllr Michael Jones, Leader of Cheshire East Council, said: "We were always aware that before any announcement on HS2 Crewe, an announcement on the Rail College would be made and that it would be going to Birmingham.
"We support that and we fully support the proposal for HS2 at Crewe.
"We understand the decision to locate the key college hubs in Birmingham and Doncaster and we anticipate further announcements on the local hubs in the future.
"Rail engineering and skills are embedded in the DNA of the people of Crewe and as a council we will do all we can to promote our interest in playing a part in the hub and spoke model that this national college is expected to become."
Sir David Higgins declared Crewe as his preferred option for a HS2 station after being brought in as a troubleshooter at the start of the year as the project costs reached £42.7bn.
The Government will have to approve his recommendation, but this is considered a formality and is likely to take place this month.
"We remain optimistic on a HS2 decision soon," added Cllr Jones.
"HS2 is massive. We are talking to universities about specialist areas of learning, based at Crewe, and we are working along with Manchester Metropolitan University to expand their presence in Crewe, which has to be great news for the town.
"The council is working with its partners to establish not only academic but real time engineering solutions for UK plc and you will hear a lot more about this in the future.
"As always Crewe is on the up with much more to come."