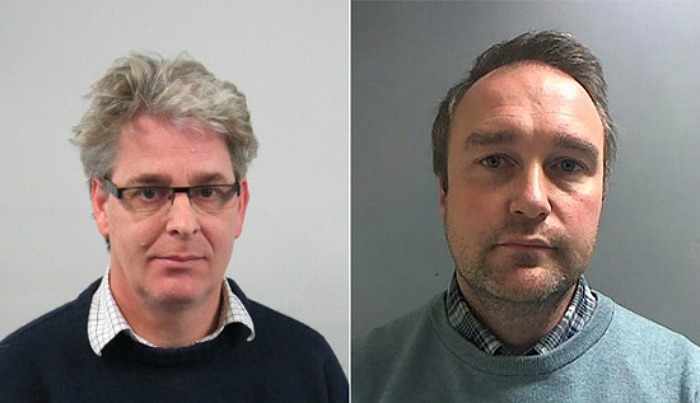 A Wybunbury IT specialist has been jailed for 14 months for his part in a scandal over corrupt NHS contract payments.
Richard Moxon, 41, admitted one count of making corrupt payments worth £80,000 to Peter Lewis in exchange for a lucrative £950,000 IT contract.
The contract was for Moxon (pictured, on the right) to provide software to record data in the Accident and Emergency department run by Royal Surrey County Hospital NHS Foundation Trust.
Lewis (pictured on the left), 57, of Windlesham, admitted receiving corrupt payments and was jailed for three and a half years.
Police said Moxon's failure to report potential fraud to the authorities when he was first approached was his undoing.
Each month, Moxon would submit multiple invoices from different companies he controlled.
The invoices were all at, or just below, £15,000 – the value that Lewis was able to sign off without oversight.
In return, Moxon paid Lewis nine payments totalling £73,770, and made a further payment of £7,200 to a stables to whom Lewis owed money.
All the payments were made between January and December 2011.
The prosecution followed an investigation by Surrey Police into the activities of Lewis, who was employed by the Royal Surrey County Hospital NHS Foundation Trust as director of infomatics.
Moxon, who admitted the charge in March 2016, was jailed on Friday (January 6) at Guildford Crown Court in Surrey.
Det Supt Karen Mizzi, Head of Proactive Crime for Surrey Police, said: "Peter Lewis sought to greedily divert money from the NHS into his own pockets.
"While I am glad to see justice being served through his custodial sentence, my team is now focusing on recovering the money Lewis made from his crime, and returning it to the NHS.
"I hope Richard Moxon's sentence will act as a warning to other public sector suppliers, who may be tempted to go along with a fraud rather than reporting an approach to the relevant authorities at the earliest opportunity."
Alf Turner, Deputy Chief Executive of Royal Surrey County Hospital NHS Foundation Trust, said: "It is rare for members of NHS staff to be willing or able to breach their position of Trust as highlighted by this case.
"Mr Lewis' actions defrauded Royal Surrey, and the people it is here to serve, of over £80,000.
"Bringing him to justice has been a lengthy and complex process.
"We would like to thank the Police for their ongoing support in pursuing this matter to its positive resolution and the matter to a close."
Stephen Rowland, Specialist Prosecutor from the CPS Specialist Fraud Division, said: "Peter Lewis abused his position for his own financial gain.
"The prosecution evidence showed how Lewis approached Moxon for a bribe and had the money paid directly into the same bank account as his salary.
"The clear evidence resulted in both men pleading guilty."
(Picture courtesy of Surrey Police)