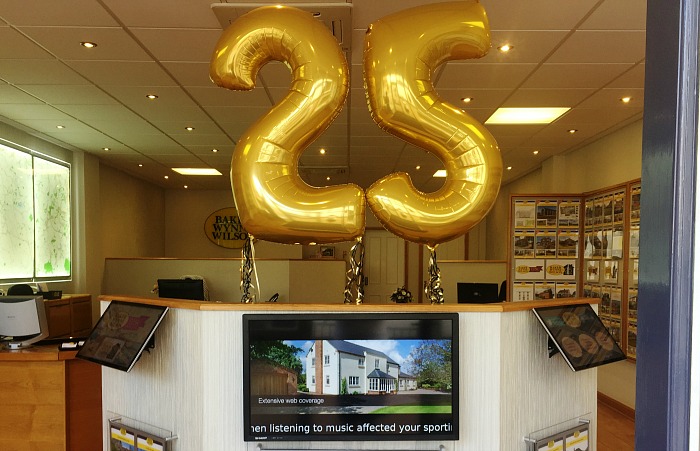 Nantwich estate agent Baker Wynne & Wilson will soon be handing out £25,000 to charities and organisations as part of its 25th "Community Pledge" birthday celebrations.
The long-standing estate agents received 68 entries to its competition to win a slice of the money on offer.
And bosses have now selected 24 charities, an additional nine to the figure they had originally proposed, who they will divide the money between.
They launched the scheme as a 'thank you' to the community that has supported them for the last 25 years.
Company founders, John Baker and Simon Morgan-Wynne, decided the greatest way to celebrate the milestone was to give something back.
Entries came in across a diverse range of groups, including Scout groups, Wildlife clubs, village greens, support organisations and music groups.
The decision was reached by a high profile judging panel.
This included new High Sheriff of Cheshire Sarah Callander Beckett, celebrity vet Steve Leonard, MD of the UK's largest regional cheese producer Mike Heler, and Christine Farrall, former Mayor of Nantwich.
The group met at Combermere Abbey, near Wrenbury, hosted by Sarah Callander Beckett, where they went through every application in great detail.
John Baker said: "We have been completely overwhelmed by the entries that have come in.
"For a relatively small community, there is an exceptional number of projects taking place in Nantwich and surrounding areas.
"Many of these charities and organisations are doing fantastic work with little or no money.
"It has been extremely difficult to select the organisations we would like to support and if money were no object, we wouldn't hesitate to offer something to them all.
"We would like to thank everyone who has been involved in the process, especially those that have taken the time to apply.
"I have personally contacted everyone we are sadly unable to support and now very much look forward to making the 24 lucky beneficiaries aware of their donations from Baker Wynne Wilson."
The company, which has sold in excess of 3,750 houses over the years, will be holding an event in July, where recipients will be formally offered their share of the pledge.
The event will be attended by the Baker Wynne Wilson team, along with the panel of judges.
To find out more about the Baker Wynne Wilson £25,000 Community Pledge simply visit www.bakerwynneandwilson.com for further information.