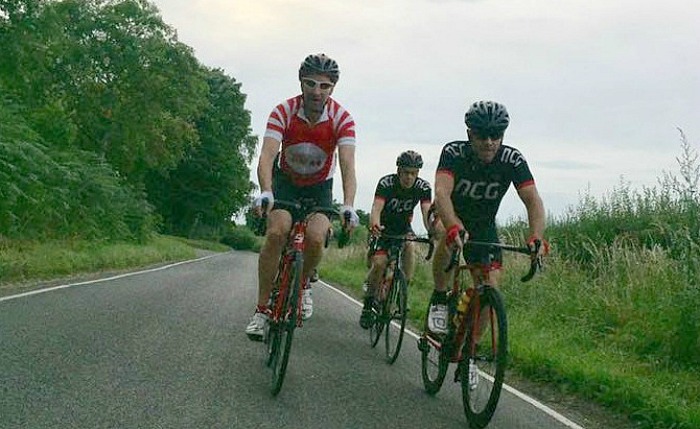 A Nantwich man is hoping to complete a 100-mile cycle challenge in aid of the Beating Bowel Cancer charity.
Dave Wheeler, 51, is aiming to cycle 100 miles in under five hours in the Prudential Ride London-Surrey 100 on July 30.
Dave's father, John, died of bowel cancer nine years ago and he is keen to raise funds to help the charity promote early diagnosis.
He said: "Dad had finally retired at the age of 68 at the beginning of 2008.
"He was fit and a keen walker and traveller.
"He was looking forward to the future with mum and his children and grandchildren.
"Then dad noticed he was getting out of breath easily and had some aches and pains.
"He put it down to age, his asthma and his previous irritable bowel syndrome, as did his doctors.
"He gradually got worse and went to hospital for tests in the April.
"He was diagnosed with bowel cancer that had spread to his liver and he died six weeks later.
"If dad's bowel cancer had been discovered earlier the outcome may have been very different.
"I now know if the disease is diagnosed at stage 1, the survival rate is 97%.
"If it is diagnosed at stage 4 – as happened in dad's case – only 7% survive."
The 100-mile course isn't a problem for Dave as he is a keen cyclist.
However, he is aiming to complete the challenge in less than five hours which means pedalling at an average of 20mph.
He added: "I know that will hurt, but people have been incredibly generous and if we can prevent just one family repeating our experience it will be worth it."
To donate to Dave's fundraising efforts, visit https://www.justgiving.com/fundraising/david-wheeler14
Dave will join a team of more than 150 taking part in Ride London for Beating Bowel Cancer, the support and campaigning charity for everyone affected by bowel cancer, the UK's second biggest cancer killer.