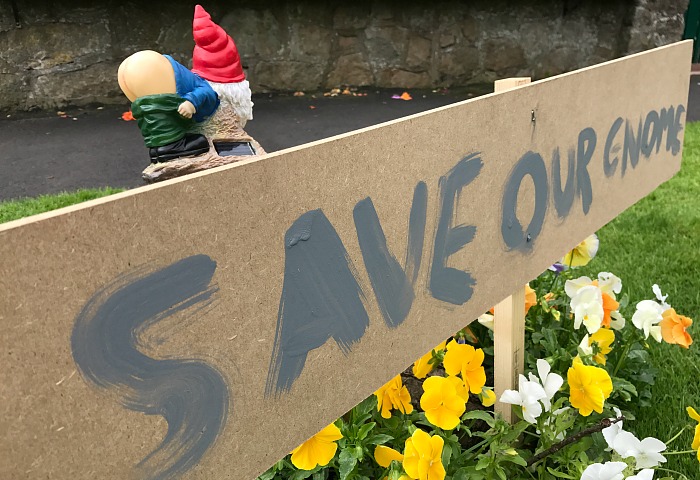 Defiant pensioner Laurence Perry's mooning gnomes are still enjoying the limelight in Wistaston – despite threats from highways chiefs to have them removed.
Laurence has moved one of the gnomes a few feet from the roadside at Westfield Drive/Park Drive junction into the flower border.
But the other remains in place outside his house on Westfield Drive, despite Cheshire East Council claiming it could be a dangerous "distraction" to passing drivers.
Cheekily, the gnome outside 77-year-old Laurence's home now has a 'Save Our Gnome' sign in front of it.
We revealed last month how Laurence had been served a letter by highways chiefs to remove the fun ornaments.
The story went worldwide, with many accusing the authority of being heavy-handed and lacking a sense of humour.
Cheshire East claimed because the mooning gnomes light up at night, it could distract passing motorists and cause a safety hazard.
But Laurence believes the publicity has forced the council into a rethink.
He said: "It seems they have backed off.
"They are still in place, the one at the junction I've moved a few feet back into the flower bed, but you can still see him.
"I've not moved the one outside my house. Everyone loves him, they come and have their photos taken, and beep their horns as they drive by!
"It's been great fun for the village, and turned them into real celebrities."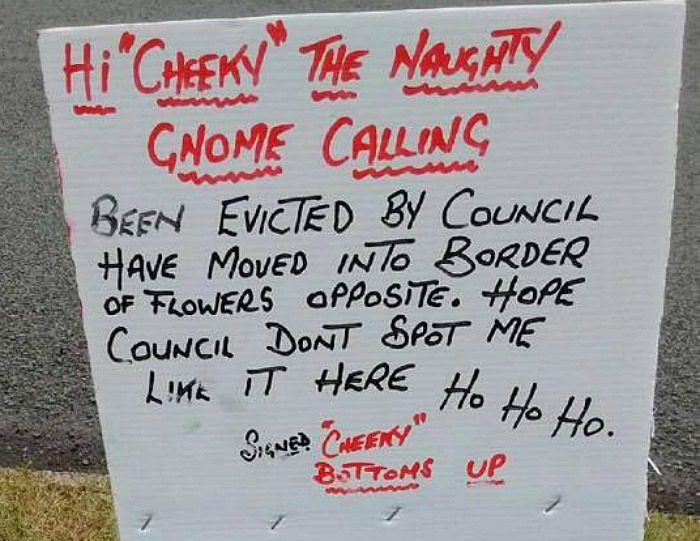 Cheshire East Council highways originally wrote to Laurence saying the gnomes had sparked at least one complaint from another resident.
In a later statement, they added: "While we do not wish to spoil people's fun, there is a safety issue here as such objects could easily cause a distraction to motorists and other road users, leading to an accident.
"We received a complaint about these ornaments which, while seemingly harmless, are designed to attract attention and light up at night.
"Therefore, we have to take steps to have them removed in the interests of road safety and the safety of pedestrians."
We have contacted Cheshire East Council for an up to date response, and are awaiting a reply.