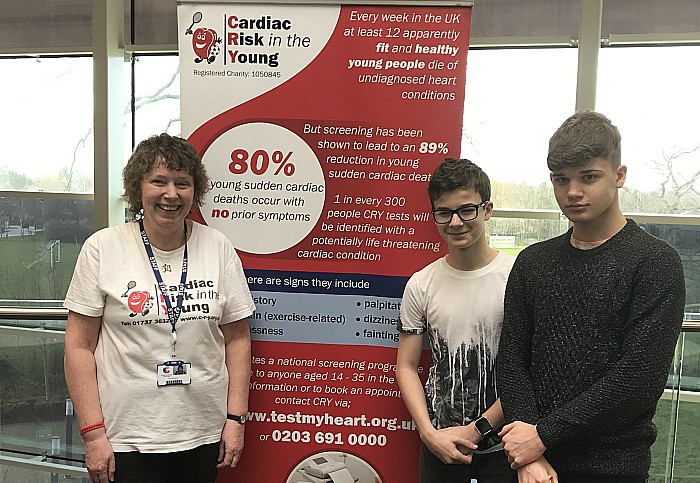 More than 100 young people took part in a heart screening day at Cheshire College – South & West.
The screening was organised by Cardiac Risk in the Young (CRY), and saw 104 people in total screened to spot potentially life-threatening cardiac abnormalities.
CRY teamed up with the college's inclusive learning adviser, Alison Howells, from Willaston.
Alison, who has worked at the college for more than 20 years, lost her 22-year-old daughter Ceri in 2014 due to Sudden Arrhythmic Death Syndrome.
Alison said: "Every week in the UK, at least 12 young people die of undiagnosed cardiac conditions.
"It can strike without warning and 80% of people who die from the condition often exhibit no obvious symptoms prior to the event.
"Heart screening is a simple and effective way to identity young people who may be at risk."
The heart screening day organised by CRY used non-invasive tests to screen young people, aged 14-35 years, for potential signs of the condition.
Alison added: "We have worked with CRY since we lost Ceri four years ago.
"During that time we have raised over £12,000 which goes towards raising awareness of the condition among young people and to help organise these heart screening days."
Alison, along with her husband Robert and son Joel, continue to fundraise for the charity and to continue their good work.
It costs £5,000 for 100 people to attend a heart-screening day.
To make a donation, visit Ceri's CRY Memorial Fund here.
The event was attended by Laura Smith, MP for Crewe and Nantwich who fully supports the aims and objectives of CRY.
She is one of a number of high profile MPs who have already signed CRY's Pledge to support a National Strategy for the Prevention of Young Sudden Cardiac Death