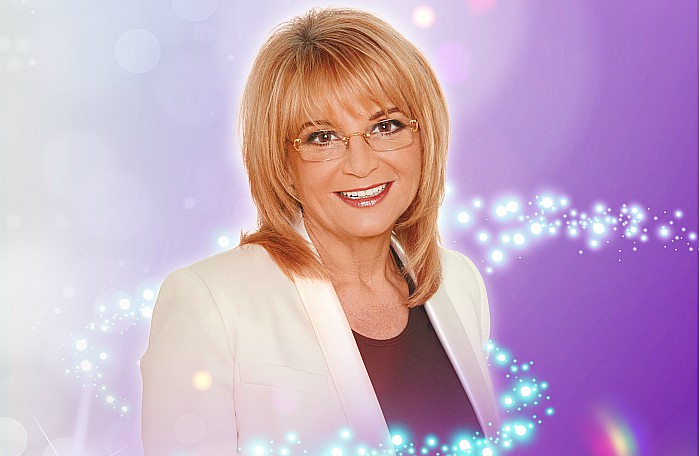 Popular psychic Sally Morgan is touring for the 10th consecutive year and is set to spook her South Cheshire fans at Crewe Lyceum on May 21.
Her tour "Kisses to Heaven" builds on her years of experience as one of the UK's most popular touring medium.
Sally will be in front of live audiences bringing the dead to life with a sense of fun and intrigue in an interactive stage show.
"Be ready for tears, laughter and a journey into the unknown," she said.
"I am so looking forward to seeing my fans at Crewe for what will be an unforgettable evening for all."
Sally's sell-out theatre shows were the subject of Sky LIVING's popular TV series Psychic Sally: On The Road.
This followed her gruelling schedule showcasing her ability to speak with people beyond the grave.
She was also the star of ITV's Star Psychic and has written several books, including the latest instalment of her life story 'Call Me Psychic'.
Sally says she had her first psychic experience at the age of four when she saw her first ghost and has grown up with the ability to receive messages from spirit world.
She read for Princess Diana for more than four years and she has given readings for many celebrities and public figures, including George Michael, Katie Price and Helen Flanagan.
She has appeared on TV shows like Loose Woman, Big Brother's Bit on the Side, Celebrity Come Dine With Me and Celebrity Juice.
"My ability allows me to harness the energy around individuals in the audience and pass on messages from their loved ones who have passed with incredible accuracy," she says.
"I call every message validated a wonder moment. So take your seats relax, be open minded and ready to come forward if you think the message is for you."
The May 21 show at Crewe Lyceum starts at 7.30pm.
For ticket details visit www.crewelyceum.co.uk or www.sallymorgan.tv for more information.