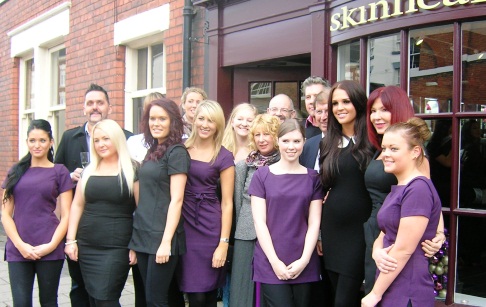 Model and TV presenter Danielle Lloyd was in Nantwich to open a new health and beauty business in the town.
Former Miss England Danielle, engaged to Premier League footballer Jamie O'Hara, officially returned to work after spending 16 weeks nursing her seriously ill premature baby.
She was on Welsh Row to open the new Skinhealth Spa (SHS) outlet, with proceeds from opening day offers being donated to local charities such as St Luke's Hospice in Cheshire and the Wingate Centre in Wrenbury.
"When there are charities benefiting it is something I like to get involved in," Danielle told Nantwichnews.
"I have also used Skinhealth and their products in London and close to where I live in Birmingham, and I love it.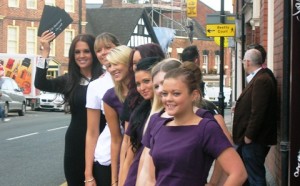 "So it's great to be in Nantwich to see the business expand and open its first Cheshire outlet."
It was her first official job since giving birth to 10-weeks premature Harry in the summer.
He was seriously ill in hospital for many weeks with brain and heart problems, but Danielle revealed recent tests have shown he has overcome them.
"He had some major tests on his brain recently because there were some bright spots on there which could have indicated brain damage," she said.
"But we've had the results back now and it's good news. He was also born with a hole in his heart, but that has closed as well.
"It's been a tough few weeks but we've come through it."
Adam Flint, Operations Director for SHS, said: "We have created a wonderful, welcoming clinic that would sit happily in any major city.
"Everyone has been very welcoming – the council, local retailers and residents."