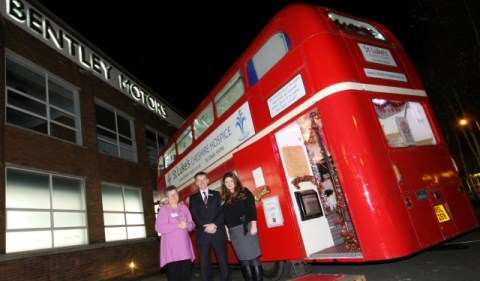 St Luke's (Cheshire) Hospice is celebrating the launch of its "100 Club" at an event hosted by one of its major supporters, Bentley Motors.
The "100 Club" acknowledges business supporters who give a monthly donation to the hospice.
Guests were treated to  canapés and wine reception, before enjoying therapies and a tour of the Bentley Lineage Museum.
Andrea Fragata Ladeira, director from St Luke's, delivered an introduction and welcome, and presentations followed by Gloria Mundie, deputy matron of St Luke's, and Mike Hawes, corporate affairs director at Bentley.
Andrea said: "We are keen to recognise the businesses that commit each and every month to supporting the hospice, and the bi-annual networking events offer us the perfect opportunity to say thank you.
"We are thrilled with the overwhelming response that we've had to this first event and we very much appreciate the support and hospitality extended to us by Bentley."
Mike said: "We have a long established relationship with the hospice, and were only too happy to facilitate this significant event in their corporate fundraising calendar."
More than £6,200 a day is needed for St Luke's Cheshire Hospice to open its doors every day, and the majority of that money is found through fundraising and donations.
Businesses or individuals wishing to donate or take part in hospice fundraising event can email Peter Lewis at [email protected]
(PIC L to R: Gloria Mundie, Mike Hawes and Andrea Fragata-Ladeira)