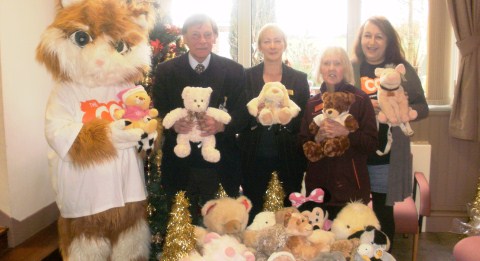 By Nicola Tooke
Hundreds of cuddly toys have been donated to the Wingate Centre thanks to generous Nantwich residents and workers.
Staff and residents at Richmond Village Nantwich spearheaded the collection, which was boosted by employees at Sainsbury's in Nantwich, local Cat Radio and Nantwich Police Station.
The toys were collected at the care home and retirement village after staff learnt every child who goes to the Wingate Centre in nearby Wrenbury receives a cuddly toy when they arrive.
After contacting Olwyn Payton, at Sainsbury's in Nantwich, and Cat Radio, an appeal was launched.
Twitchy the Cat mascot joined Richmond Village staff and Olwyn to hand the toys over to the centre.
Olwyn said: "We are all delighted at the overwhelming response to this appeal and hope the toys will bring lots of happiness to all the children."