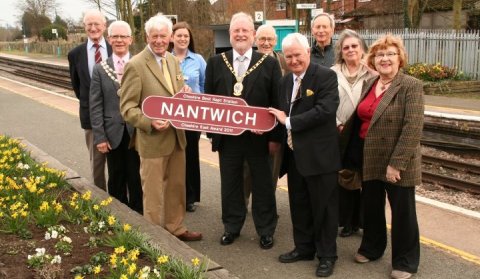 Award-winning Nantwich railway station has unveiled its latest prize to passengers.
Dignitaries gathered for the Cheshire Best Kept Stations Competition' nameplate ceremony on the Crewe-bound platform.
The station won the award for 'Best Cheshire East Station' back in October. Overall county winner was Frodsham.
Nantwich station is cared for by volunteers and tended by groups like Nantwich in Bloom and Nantwich Town Council.
The plaque-fixing ceremony on March 16 was attended by Mayor of Cheshire East Cllr Roger West, MP for Crewe and Nantwich Edward Timpson, Mayor of Nantwich Cllr Arthur Moran, and Leader of Nantwich Town Council Cllr John Lewis.
Organiser of the Cheshire Best Kept Stations competition John Hulme was also present alongside Nantwich in Bloom chairman Doug Butterill, secretary Sue Hughes and former secretary Connie Jones.
Shelley Hall, Nantwich Station manager for Arriva Trains Wales, was also present.
It's the latest in a long line of accolades for the station.
In 2010, it won the Best Kept Gardens Award.
And in 2009, the station won the Community Award and in 2008, its first entry in the Cheshire Best Kept Station Competition, it won the Best Kept Gardens Award.
Over the last four years the station has been transformed with beautiful flower borders, hanging baskets and planters.
(Pic courtesy of Arriva Trains Wales)