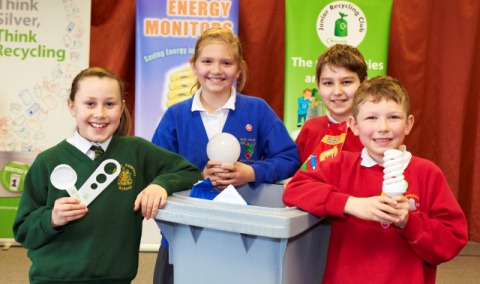 Junior Recycling Officers in Nantwich and Crewe have been working hard to boost recycling and save energy.
More than 177 primary school pupils from across Cheshire East have taken part in special training days this month.
The children are acting as Junior Recycling Officers (JROs) and Junior Energy Monitors (JEMs) for the authority.
They are tasked with promoting recycling and energy-saving among their peers and the wider community. Up to 110 schools in Cheshire East are now part of the initiative.
Training gave the children a chance to brush up on their skills and look at new ways to promote their work.
This included devising questionnaires about recycling and energy-saving – to be completed by their peers and families – to find out how knowledgeable their local communities are.
They looked closely at the council's Love Food, Hate Waste campaign, which educates people on how to avoid throwing food away unnecessarily.
At the end of the school year, all pupils taking part will be able to apply to become the JRO or JEM of the year and win a mountain bike.
Cllr Rod Menlove, Cabinet member with responsibility for environmental services, said: "The dedication and enthusiasm of the JROs and JEMs is to be commended.
"Training days are about encouraging them to continue their good work and work on ideas which will help take their roles even further."
PIC: (left to right) Kate Coppermoore of Bunbury Primary; Chloe Minter of Wybunbury Delves; Oliver Perkins and Matthew Gibson, of Warmingham Primary School.