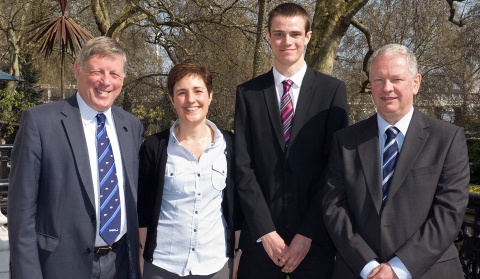 A Nantwich student is among four finalists in a national competition to find the UK's most talented dairy students.
Will Astley, of Reaseheath College, was shortlisted for the final of the Royal Association of British Dairy Farmers (RABDF) Dairy Crest Dairy Student of the Year.
Will made a formal presentation on dairy farming at the London final before a panel of leading industry experts.
Despite narrowly missing out on the top prize of £1,000, he received a memento and was delighted to have battled it out against entrants from top universities.
He was selected to represent Reaseheat in the competition and won his way through two rounds of judging to qualify for the final.
Will, whose family farm is in Llansantffraid, Powys, said: "I've been really interested in farming since I was 10, when my parents allowed me to select which bull to use on our dairy herd.
"After graduating I'm hoping to work in genetics and eventually to take over the family farm. My ambition is to have one of the leading dairy herds in the country."
RABDF chief executive Nick Everington said: "We need more of these intelligent and highly motivated young farmers driving our industry forward, enabling it to compete in world markets and securing its future."
(Pic: Will Astley with Reaseheath course manager Jane Richardson, Nick Everington and Dairy Crest procurement director Mike Sheldon)