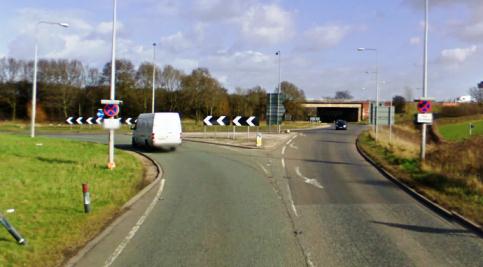 A new road layout off the M6 for Nantwich and Crewe could unlock the potential for new jobs in South Cheshire, council chiefs claim.
Plans for the new road layout on the A500 approach and around junction 16 roundabout and slip roads could start this autumn.
The multi-million pound scheme is being considered by the Highways Agency in Birmingham.
Work would take around nine months, likely to cause disruption for hundreds of commuters from Nantwich who use the route daily.
It's part of a larger plan to boost access to the Basford West site off the A500 near Shavington –  a key site owned by Goodman.
The company secured planning permission to develop the site as a logistics and employment hub in 2008.
But conditions require Goodman to upgrade the motorway slip roads and roundabout and widen the A500 approach from Crewe and Nantwich to cope with increased traffic.
Slip roads would be widened, traffic lights used to manage traffic flow around the junction 16 roundabout, the roundabout widened to three lanes, and additional lanes on the A500 for almost half  a mile on the approach to the M6.
There will also be a new road from A500 dual carriageway at Shavington through Basford West site linking to the B5071 Gresty Road.
Cllr Rod Menlove, Cabinet member in charge of the environment, said: "With the Highways Agency approval in place, the council will do everything it can to assist Goodman to begin the works as soon as possible. Every effort will be made to minimise disruption.
"But, inevitably with work of this scope, there would be periods of disruption and so there would be measures taken, such as night-time working, diversions and local traffic management arrangements."
Jenny Moten, of the Highways Agency for the Midlands, added: "Facilitating growth is a key priority for the Highways Agency and we are therefore looking forward to working with the council and Goodman to enable the project to start."
Ian Pritchard, development director for Goodman, said: "Market conditions continue to be challenging since we received our planning approval back in 2008.
"But, with a planning framework and highways approvals in place, we believe we will be in a position to commit to the highway works over the coming months."