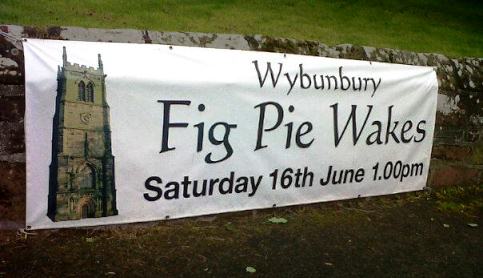 Hundreds of people braved the rain to attend an historic annual event in a Nantwich village – the Wybunbury Pie Wakes.
Nantwichnews writer Claire Faulkner joined the throngs, and took part in a tradition which dates back 200 years.
"Like most people in the area, I've heard of the Wybunbury Pie Wakes, but never actually attended before. This year I decided to give it a go.
My pie had been baked following the strict competition recipe, and I headed out in the rain to join 199 other people who had entered the spirit of the event.
The tradition of the Fig Pie Wakes dates back 200 years and this popular family event is now used to raise funds to assist in the upkeep of Wybunbury Tower.
As barriers were put up and the road was closed, people of all ages started to gather on the bank to get the best possible view.
When I bought my entry and ingredients a few weeks ago at the Village Post Office I also asked for some pie making tips and advice.
I was told that the pie had to be round and contain figs and apple. Winning pies may be weighed and cut open after the competition to ensure that no cheating had taken place. The winner is the person whose pie goes the furthest and remains intact the most.
There are three categories in the competition, the under 10s, 10 – 16s, and over 16s.
Edward Timpson, MP for Crewe and Nantwich, rolled the first pie to officially start the competition.
As the crowd cheered each person on I watched from the side, trying to work out the best way to role a pie.
I was ushered to the front and then it was my turn. The atmosphere was full of fun and support – it felt like every eye in the village was on me!
It wasn't so much of a roll, like the other competitors. It was more like a bounce and then complete pie disintegration.
I think I managed about 15 metres, which doesn't sound too bad, but when the winners are announced my effort looks poor in comparison.
The winner of the Under 10s was Harry Leonard, whose pie rolled an amazing 104.1m.
In the category of 10 -16 years old the winner was Joe Wright with 100.7m. The over 16 category was won by Megan Bayley with 91.3m.
Well organised and with a great atmosphere, I would recommend anyone to take part next year.
The Wybunbury Fig Pie Wakes is a great family event with everyone of all ages taking part and the entire village having fun.
With a bit more practice and a few more cookery lessons, I think I'll be ready next year!"
(words and pictures by Claire Faulkner)