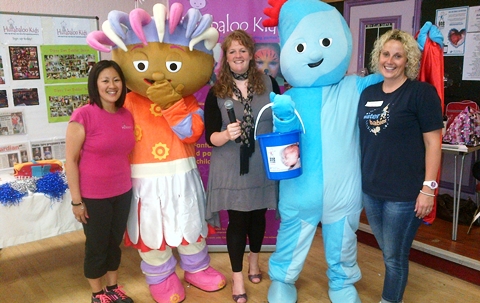 More than 400 people visited Nantwich Civic Hall to pick up baby bargains, advice and products in aid of the One in Eleven Appeal.
Mums, dads and parents-to-be browsed the stalls from 40 traders at the Nantwich Baby Fair "Bumps, Babes and Beyond".
The fair raised £1,169 for the One in Eleven Appeal for a new neonatal unit at Leighton Hospital through entry money, a raffle and tombola.
It was organised by mum Sharon Burrows,  a presenter with Crewe and Nantwich's Redshift Radio and owner of Hullabaloo Kids activity classes and parties.
"I couldn't believe how busy we were, it couldn't have gone better," said Sharon, who lives in Cronkinson Oak, Nantwich.
"There was a great atmosphere and I think the fact that it was all for One in Eleven really encouraged people to come along and get involved."
The day started with a family movie at Malbank School with a screening of The Gruffalo.
The fair, compered by Redshift, included goody bags, beauty and Reiki tasters, free craft activities for children and demos of everything from baby signing and dance classes to first aid.
And there was a guest appearance from Iggle Piggle and Upsy Daisy, from children's TV show In The Night Garden.
Liz Southall, director at Redshift Radio, said: "Sharon has worked so hard and given most of the exhibitors some air time as well as made sure that almost every pregnant lady in Nantwich knew about the event. We look forward to being part of the next one!"
Sharon, who had her five-year-old son Luke at Leighton Hospital, added: "Leighton is our local hospital and all the mums and dads who came to the fair have helped make sure babies born there that need extra help in the future will continue to receive the best care."
Sharon plans to organise more community movie events for the appeal.
If you are interested in attending future movie events, contact Sharon at  [email protected] or 07973 479471.
(Pic left to right: Sharon Burrows, Liz Southall and Anna Woodhart Bates from Water Babies,  with 'Upsy Daisy' and 'Iggle Piggle')