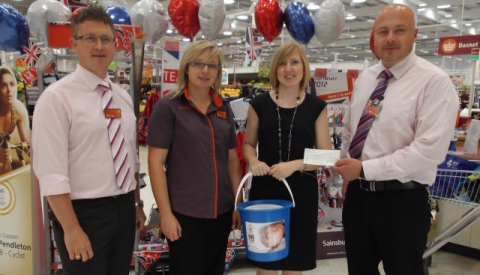 Leighton Hospital's "One in Eleven Appeal" has received another cash boost thanks to staff at Sainsbury's Nantwich.
Employees won a sales competition organised by Red Bull and donated the winnings of £250 to the store's Charity of the Year.
Laura Bailey, fundraising manager from Leighton Hospital, was delighted to collect the cheque from members of staff at the store.
Sainsbury's Dean Baksh-Jones said: "We are looking at every way possible to raise money for the appeal.
"We have a whole range of fund raising activities organised during the Paralympics the proceeds of which will be given to the 'One in Eleven' Appeal."
Pic: Sainsbury's staff Dean Baksh-Jones, Shelli Wakefield and Paul Hayden with Laura Bailey.