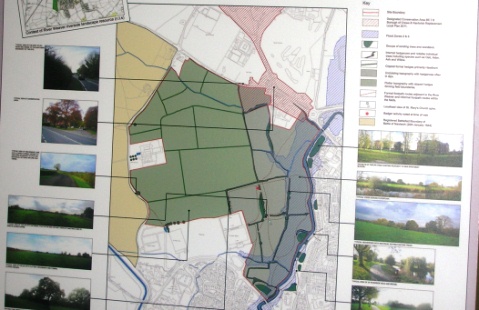 A plan to build 1,100 homes on the Kingsley North site in Nantwich has more benefits than rival proposals, it was claimed.
Reaseheath College principal Meredydd David joined agents to outline their plans to Nantwich Town Council.
The college is spearheading the development with a planned sale of its land to Mosaic Estates, which it says will then be reinvested back into the college.
The development, bordered by the A51, Welshman's Lane and the Riverside, would include a new primary school, business units, a multi-use games area and retail store, according to planning consultants RPS.
They said it could also see the completion of a Nantwich ring road, with a route connecting Waterlode near Nantwich Town's Weaver Stadium, running through the development to the re-aligned A51.
Mr David said: "It's really important that this scheme benefits Nantwich and benefits the college significantly.
"This is a scheme that is deliverable. It keeps a lot of the money local in terms fo reinvesting in the college. It delivers improvements to the A51 traffic lights, and reduction of traffic through Acton.
"We don't own all the land, but land owners are working together and are committed to the scheme."
Mark Saggett, of RPS, said a new 210-pupil primary school would be built, but no more secondary school provision would be needed.
And he said the location of the site gives it a big advantage over rival large-scale plans such as the Muller Property scheme in Nantwich South.
"There are significant environmental pluses that come from this development," he added.
"Such as helping to deliver the Riverside Park, and the level of car dependency would be far lower than other sites to the South.
"People would be able to walk and cycle to town and school."
Councillors raised concerns about the flood plain and how water would be drained from the new development.
Others questioned who would be responsible for maintenance of paths, verges and and green areas, while Cllr Stuart Hutton queried the types of jobs it would create, and the design of the homes to be built.
 Mr Saggett assured councillors the historic battlefield close to Welshman's Lane would be protected, and that run off ponds would be able to cope with extra run-off water at times of heavy rain.
"There are areas outside the flood plain set aside to hold the run off water, so water would drain naturally into these," he added.
"This would be agreed with the Environment Agency."
Mr David said the sale of the college's land would allow them to fund new student halls on campus, and develop better sporting facilities which would be available to the public in evenings and holiday periods.
"The completion of the ring road around the town is a key advantage over other plans, and gives us a very very strong case," he added.