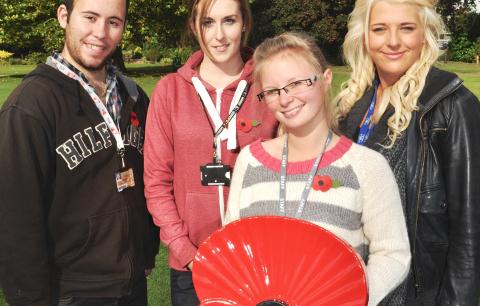 Nantwich students have joined forces with the Royal British Legion to help raise funds through this year's Poppy Appeal.
Members of Reaseheath College's Students Association hope to raise £3,500 by selling poppies at Crewe Railway Station until Remembrance Sunday on November 11.
The students, working with members of the charity's volunteer team on the railway concourse, are on a daily rota from 9am to 7pm.
Fourteen students are also going to Heathrow Airport to sell poppies on Saturday November 10.
Student services coordinator Mark Hardy said: "A growing number of Reaseheath students have become interested in recognising the contribution of the armed forces to world peace.
"They realise troops who are serving in the most dangerous hotspots in the world are, in many cases, the same age as themselves.
"We decided we could really make a difference. Many of the regular volunteers come from the older age group, so we thought it would be good to bring in fundraisers from a younger generation."
Julie Dove, Royal British Legion's fundraiser for Cheshire, said: "We are delighted to have them on board and that they recognise the work the Royal British Legion does to support all who serve, both past and present.
"They understand we are looking after the Afghanistan generation as well as those who fought for us in World War II."
Reaseheath fundraisers and college representatives will attend the Remembrance Sunday service at St Mary's Church in Nantwich own centre on November 11.
There is also an outdoor Remembrance service at the college on Friday November 9.
(Pictured: Student president Sophie Pegg and Student Association members Ben Lloyd, Ceara McDermott and Imogen Johnson)