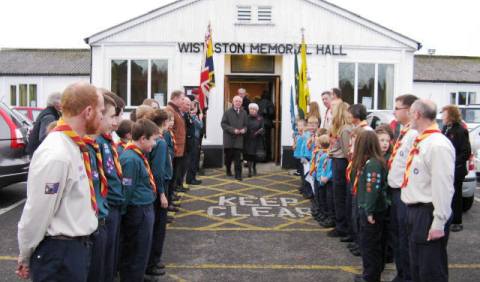 Residents, councillors, and members of the Royal British Legion packed into Wistaston Memorial Hall for Remembrance Service.
They were joined by members of Beavers, Cubs, Scouts and Explorers from the Wistaston 35th SWC Scout Group.
A poppy display was arranged by Olive Williams, and the music was provided by Myra Wood and members of the Wells Green Church Choir.
The service was led by Rev Mike Turnbull and Rev Ken Sambrook, of St Mary's Church, Wistaston, and Fr Martin Moran, Oblate Retreat Centre.
A list of the names of the 16 men from Wistaston who died in the Second World War was read by Barbara Brereton.
A special tribute was paid to one of the men, Sgt George Alfred Hinton, of No.53 Squadron Royal Air Force, who was reported as "missing" on a bombing raid on November 26, 1940, aged 28.
He was the observer/navigator in a Bristol Blenheim Mk IV plane from RAF Thorney Island, Sussex.
Memorial Hall president John Cooke placed a wreath at the front of the hall, which opened in 1949 to remember those killed.
Jack Gresty played 'The Last Post' and 'Reveille', and a collection raised £248 for The Royal British Legion.
Hall chairman John White said: "This was another respectful service during which the 16 Wistonians who perished in the Second World War were remembered and due tributes given. We will always remember them."
(All pictures courtesy of Christopher White)