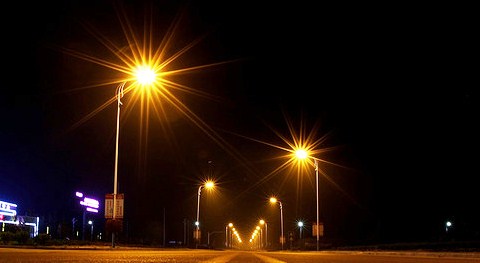 A Willaston councillor is calling for street lights along a busy route in the Nantwich village to be switched back on.
Newcastle Road falls under the new Cheshire East Council initiative to switch off or reduce street lighting to cut costs.
Nantwichnews told a week ago how Cheshire East's plan to switch off some lights, and dim others, was aimed at cutting costs, carbon emissions, and light pollution.
Lights on a section of Newcastle Road between Cheerbrook roundabout and Elwood Way were switched off as part of the plan.
But Willaston and Rope ward Cllr Brian Silvester claims more columns on the other section of Newcastle Road were off which were not highlighted on the original plan.
He is now calling for a proper consultation.
He said: "It is simply unacceptable to switch off street lights on a major route into the village without any consultation whatsoever with residents of Willaston and the parish council.
"Before some street lights were switched off in Wilmslow, proper consultation took place. But Willaston residents are not given the same consideration and are being treated as second class citizens.
"Blacked out streets are less safe and more vulnerable to crime and residents have a right to express views about this before a decision is implemented."
Cllr Rod Menlove, Cabinet member in charge of the environment, said the scheme could save the authority £1.6million a year.
"Only 950 lights out of 38,000 – just three per cent – are being considered for switch off," he said.
"Another 17,700 will be considered for part-night lighting – switched off between midnight and 5.30am only. There will be other money-saving and energy-saving initiatives, such as dimming lights and using low-energy bulbs.
"The A51, including the Newcastle Road area, is included in the switch-off programme and town and parish councils across Cheshire East have been informed of the new approach to street lighting changes.
"We have also undertaken a road safety review in advance of each switch-off and the Police and Fire Service were consulted.
"We are still in the process of assessing some minor routes and residential areas. Before any changes are implemented there will be discussions with ward members and their relevant town and parish councils, as was the case in Wilmslow.
"Street lights in town centres and high crime areas will not be switched off – they will simply be replaced with lower energy bulbs to save costs."
Lights on Colleys Lane, Willaston, were also out recently, but Cheshire East said this was a technical fault and the road is not part of the light reduction scheme.