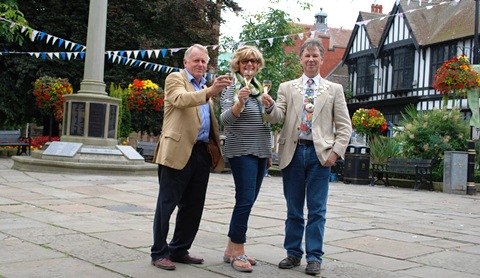 A Nantwich events director and fundraiser is one of four Cheshire people to receive a New Year Honour.
Retired farmer Roger Mills receives an MBE after helping to raise more than £500,000 for local charities including Christie's Hospital.
Roger, who lives with his second wife Sarah in Burland, is well-known in the town as a director of major events like the Nantwich Show and more recently Nantwich Food and Drink Festival.
And the 72-year-old told Nantwichnews of his "complete shock" at being told of the award by the Cabinet Office.
"It was a great surprise, straight out of the blue," he said.
"I'm obviously delighted, but I also feel it's a way of being able to thank all the people who have helped me over the years.
"I've been fund-raising for 40 years and helping to put on fairly large scale events, and these very much need a dedicated team behind you to do it.
"So often you go back to the same old friends, and they always say 'yes' without any hesitation, so the award is a way of thanking them."
The father-of-three worked for ICI before farming for 30 years in Cheshire.
He retired in 2000 but after the death of his first wife to cancer became a key figure in organising events like the Nantwich Show, Food and Drink Festival, and Nantwich Spooktacular.
"When I was approached about the food and drink festival I said they had to do two things – move it from Mill Island back into the town, and make it free," he recalled.
"And I think this has made a terrific difference in terms of the number of people who now come to Nantwich from a wide area.
"Nantwich is a thriving community, unlike many other towns, there are hardly any empty shops. It's a great town."
Roger has staged fund-raising events for Christie's including barn dances at his own home and a charity auction event at his daughter's wedding.
He also worked for Christie's as director of events, raising £500,000 by the millennium.
He has raised money for other causes such as Macmillan at St Luke's Hospice, and Nantwich-based Action Medical Research.
Other Cheshire award winners are Mary Spiegelberg, from Tarporley, who will also receive an MBE after raising thousands of pounds for St Luke's Hospice.
Beryl Duggan, from Chester, receives a British Empire Medal (BEM) after setting up a helpline and fundraising for the British Retinitis Pigmentosa Society, which funds research into inherited diseases which cause blindness.
Geoffrey Prince, from Frodsham, who set up the "Will to Work" workshop for brain injury sufferers, after himself being left physically disabled, also receives a BEM.