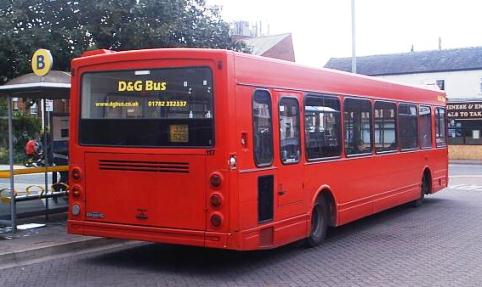 Angry bus passengers from Nantwich have set up a Facebook group to fight cuts to local services from the town.
Many have hit out after key journeys like the number 44 from Nantwich to Shavington and Crewe before 9am were axed.
Bus company D&G, which operates the 44, blamed it on Cheshire East Council withdrawing subsidies.
But many Nantwich workers like Fiona Bratherton have been left facing longer and more expensive bus journeys as a result.
Now Fiona, a teaching assistant from Nantwich who works in Shavington, has set up a Facebook group IWantMyBusBack to garner support against the cuts.
Scores of others have joined the site, and Labour councillors have also shown support.
"Of all of the austerity measures facing us in Cheshire East, the recent changes to bus provisions must be one of the more gratuitous and ill-thought-out," said Fiona.
"I am shocked at the lack of outcry surrounding these measures. All services of the number 44 bus before 9am – which I relied upon to get from Nantwich to work in Shavington – have been cancelled, with no provisions replacing them.
"My only option is to go into Crewe – a mile and a half further than I need to – and catch a second bus back to Shavington.
"This journey still gets me into work ten minutes late. It will take me an hour and 20 minutes – 55 minutes more than previously –  and will cost me twice as much."
Other campaigners labelled the cuts "ridiculous" and demanded key ones in the morning and evening be reinstated.
Former bus driver Jason Griffiths said: "If council is cutting services due to costs then every route is open to be cut because many of them can end up running around empty, but the next journey or day it can be standing room only! All these services should be reinstated."
Labour Cllr Michelle Sherratt said: "Any bus service before 9am should be immediately reinstated, as this retrospectively amounts to social exclusion."
Fiona added: "The cancellation or reduction of so many bus routes further places limits on those looking for work.
"I understand money needs to be saved, but I urge the council to rethink these measures.
"The positive impact of certain bus routes upon the lives of constituents needs to be considered above the physical numbers of people on each bus."
Tim Jeffcoat, bus network manager for D&G, said: "We are a business and we have to make money, therefore we have to make decisions as to what we can and cannot afford to run on that basis.
"Service 44 used to have two buses, but when Cheshire East decided to withdraw the subsidy they paid we found we could only afford to run one.
"In addition the K44 school service from Shavington area to Malbank School also lost its subsidy, so we incorporated that into the 44 timetable. As this is a full bus, the one vehicle now available for this route has to be built around this school's movement."
Cllr David Topping, Cabinet member in charge of the environment, said: "In this challenging economic climate, Cheshire East Council must prioritise funding accordingly and must seek to address the needs of the vast majority.
"There was a widespread public consultation last summer with the users of all council-subsidised bus services and the responses told us this particular service was not heavily used.
"Understandably, it is not possible to cater for each individual person's requirements. Whilst there is no longer a direct service between Nantwich and Shavington, there are suitable alternative bus services that enable journeys between Nantwich and Shavington to be undertaken."
The campaign can be viewed at www.facebook.com/iwantmybusback. Fiona can be contacted at [email protected]