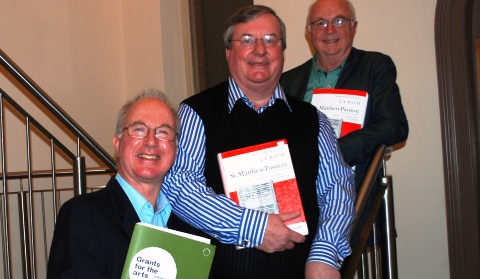 Nantwich Choral Society is singing for joy after scooping an £8,000 Arts Council grant.
It will help the group, which includes more than 100 members from across Cheshire, stage its most ambitious production to date – J S Bach's St Matthew Passion.
Rehearsals at Nantwich Methodist Church on Hospital Street are  in full swing for the performance which will take place with a full orchestra in Chester Cathedral on Saturday, March 23.
Society grants officer Martin Jones said: "Overall costs of the production are more than £14,000 and staging it wouldn't have been possible without the Arts Council support.
"It was our third application in recent years and we were thrilled to be awarded the full amount we applied for.
"Now we can put on one of J.S Bach's greatest works in a foremost concert location in the North West."
The society had to demonstrate its commitment to enriching the North West through music with a focus on introducing young people to the arts.
It also pledged to organise transport for concert-goers from Nantwich, which is now in hand.
Martin added: "Many would argue there has never been a greater composer than Johann Sebastian Bach, and among his many compositions none is more important than St Matthew Passion. It is without doubt one of the greatest pieces of choral music ever written.
"The Arts Council is keen as many people as possible should be able to attend this concert, and our ticket prices reflect their wishes.
"In particular, we are offering substantial discounts to students and young people, and hope many will be able to attend to hear great music in a wonderful setting."
Joining the society will be 18th Century Sinfonia, a period instrument orchestra, Mathew Minter, an Evangelist performer from Holland, Christopher Booth-Jones, former principal baritone with the English National Opera and Eleanor Laugharne, a rising star of the Glyndebourne National Opera. Also performing will be the popular local choir, The Lydian Singers.
Transport is being organised from Nantwich. Details are on the society website www.nantwichchoral.org.uk
Tickets can be obtained from Chester Cathedral box office, members of the NCS or from [email protected]
(Pic: Grants officer Martin Jones, musical director John Naylor and Roger Boultbee)