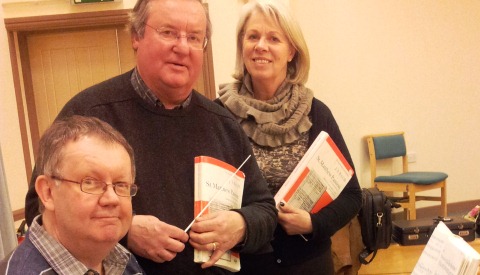 Some of the finest voices from across Cheshire will be in harmony for a major concert led by Nantwich Choral Society.
St Matthew Passion, one of the most ambitious concerts to be staged by the society in its 40-year history, will be performed at Chester Cathedral on March 23.
Tickets are selling well for the concert  made possible after the singers scooped an £8,000 Arts Council grant.
Joining forces with the 100-strong choir will be Cheshire-based Lydian Singers and Chester Cathedral Nave Choir, which includes many professional singers performing countrywide.
Appearing also will be the 18th Century Sinfonia, a period instrument orchestra, Mathew Minter, an Evangelist performer from Holland, Christopher Booth-Jones, former principal baritone with the English National Opera and Eleanor Laugharne, a rising star of the Glyndebourne National Opera.
The society, directed by John Naylor, is rehearsing every Wednesday at Nantwich Methodist Church with Simon Russell, principal organist at St Mary's Church, accompanying on the piano.
Chairman Elizabeth Lea, of Alpraham, said: "St Matthew Passion is one of J.S Bach's greatest works. To sing it alongside these famous names and join forces with the Nave Choir will make March 23 a very special night for us."
Transport for the concert is being organised from the Nantwich area and already three coach loads are booked.
She added: "The society has a record membership of over 100 mixed voice choral singers who share a passion for singing and are bonded by a love of music. We hope the people of Nantwich will join us for a memorable celebration."
Tickets can be obtained from Chester Cathedral box office, members of the NCS or from [email protected] or by calling Elizabeth Lea on 01829 260277.
For information on travel from Nantwich visit the society website www.nantwichchoral.org.uk