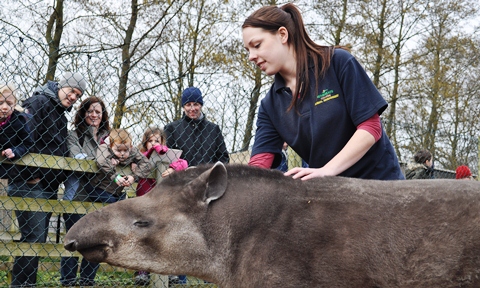 Nantwich families have the chance to meet exotic and familiar pets when Reaseheath College's zoo opens over Easter.
The college, one of the best animal management training centres in the UK, is opening its zoo to the public for two weeks from Friday March 29 to Sunday April 14.
The zoo's more colourful residents include tapirs Ernie and Timmy, ring tailed lemurs, spider monkeys and meerkats and there are also birds of prey and a wide variety of reptiles and amphibians.
More familiar animals include rabbits, guinea pigs and aquarium fish.
Special activities include an Easter egg hunt over the three days of the Easter weekend.
There will also be animal encounters on some days the zoo is open, giving visitors the chance to meet ponies, donkeys and goats.
There will also be colouring and crafts for children and the opportunity to make bird feeders.
As April is National Pet Month, the animal management training centre is also holding events at the zoo to promote responsible pet ownership.
These include workshops on dog care, pet care, preparing for exotic pets and making enrichment toys for rabbits and guinea pigs.
Reaseheath Zoo opens Friday March 29 to Sunday April 14, 10am to 5pm. Last entry is 4pm.
Prices are adults £5, children and concessions £4. Families (two adults and two children) £15, under 3s free.
For details visit www.reaseheath.ac.uk/zoo, phone 01270 613222 or email [email protected]
(Pic: Ernie the tapir and BSc Animal Behaviour and Welfare student Katie Almond)