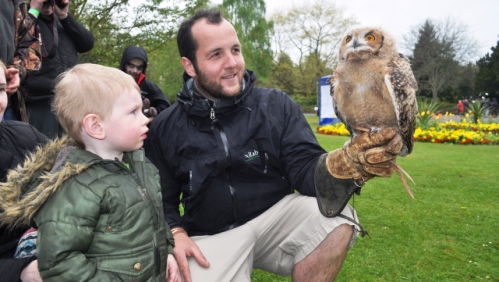 Poor weather failed to dampen spirits at Reaseheath College's Family Festival, which attracted around 7,000 visitors.
The college opened its Nantwich gardens and grounds for the annual event with hundreds of activities.
Spectators enjoyed demonstrations by celebrity chef Brian Mellor, football freestyler Craig Gorey and the Pen Llyn Lusitano classical dressage display team.
They also cheered on students as they competed in the many events across the campus.
Horticulture students raced to build a garden against the clock.
The winning garden, selected by public vote, was 'Gone Fishing', designed and built by Richard Hudson-Davies, Paul Byrne, Michael Nadin and Peter Roberts.
Agriculture students showed off their stockmanship skills in calf, pig and sheep shows.
Champion handler in the calf show was Lizzie Mercer, followed by Kirsty Pickles, Molly Taylor, James Raven, Fiona Birtles and Megan Baldwin.
Champion sheep handler was Amy Champ, Scott Davies second and Isabelle Goodwin third.
Tom Bird was 1st in the Young Shepherd competition, beating James McKenzie and Richard Bailey.
Champion pig handler was Phil Gleave, with Lucy Culwick, Dewi Hughes and Jack Jones also taking top placings.
A fun dog show incorporating agility and novelty classes attracted record entries.
Best in show went to Dixie, a 15-week old Staffordshire bull terrier cross belonging to 17 year-old Lily Mason, a Reaseheath animal management student.
Student Association members raised money for their RAG appeal in aid of Broughton House, which provides specialist care for ex-service personnel.
Animal Management students raised several hundred pounds for the Blue Cross animal charity with a "Paws for Tea" stand laden with cakes and decorated with bunting.
Local Nantwich stores M&S and Morrisons donated tea bags andfood for the event.
Entertainment in the main marquee included local rock band Hex, Nantwich punk band Lost in Space, St Anne's Catholic Primary School Choir, Nantwich, Celtica Irish dance school and Miss Caroline's School of Dance, Crewe.
The action-packed programme also featured a flying demonstration of birds from the International Centre for Birds of Prey, a Mad Hatter's Tea Party, sheep shearing, a farmers' and craft market, horse riding displays, tours of the college's zoo and food centre, a high ropes course and climbing wall, archery, miniature train rides and the change to drive diggers and go karts.
Festival Organiser Faye Thomson-Butt said: "Reaseheath's Family Festival always attracts thousands of visitors and this year was no exception despite the disappointing weather.
"It was a great opportunity to show the public the achievements of our students. Everyone seemed to enjoy our exciting programme and we had a lot of compliments about the high standard of our facilities and about the range of courses we offer."