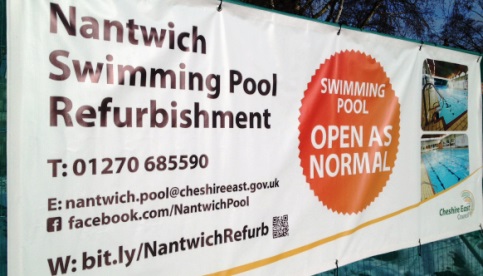 Nantwich's outdoor swimming pool reopens this weekend – despite temperatures plummeting to an unseasonably low.
Cheshire East Council will be hoping for warmer weather this Bank Holiday to entice swimmers to one of the few remaining inland brine pools.
The outdoor pool season in 2013 runs from May 25 through to Sunday September 29.
The pool is 30-metre long and 15-metre wide, with a depth range between 0.9m and 2.3m. The temperature of the pool is 22°C.
It first opened to the public back on July 1 1935 and the pool water temperature is now maintained at 74°F and through solar gain is usually much warmer.
Some of our older customers still reminisce about their school days at the pool, when they claim the water was only just above freezing point and they happily swam in it!
Visit the Cheshire East pool info page here for a full breakdown of opening times and prices.
Refurbishment of the main indoor pool, fitness suite and changing rooms is continuing with an estimated completion date in August 2013.
There is a planned official re-opening date in September.
(Pic by Jonathan White)