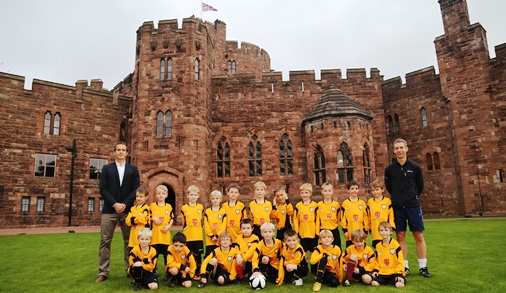 Youngsters of an Under 7s football team hope to be kings of their league – with a new kit from Peckforton Castle.
The picturesque venue near Nantwich is the new sponsors of kits worn by players for Davenham Dynamos and Davenham Rangers.
Paul Parker, manager of Davenham Dynamos and Rangers, said: "We are delighted to have the support of Chris and Kate Naylor and the team at Peckforton Castle for both the football teams.
"The boys are certainly proud to wear their new kits – they look fantastic."
The presentation was made by former England footballer and Bolton captain Kevin Davies, who made a surprise appearance to the boys' training session.
Paul added: "We are so grateful to Kevin for giving up his time to come and meet our boys – I'm sure they are all newly-inspired to work well together and to enjoy their first season of competitive football."
Peckforton Castle owner Chris Naylor handed over some of the shirts to the team and delighted in helping make them feel like proper footballers.
Chris said: "My son Lucas plays in the Davenham Dynamos and they are a brilliant team. The lads work really hard and are dedicated at what they do.
"One of things we try to do at the castle is support local businesses and organisations in any way we can. This is our way of giving something back and helping inspire a child's future.
"It was a pleasure to sponsor both teams and I hope their pride in their new kit will reflect in their success on the pitch."