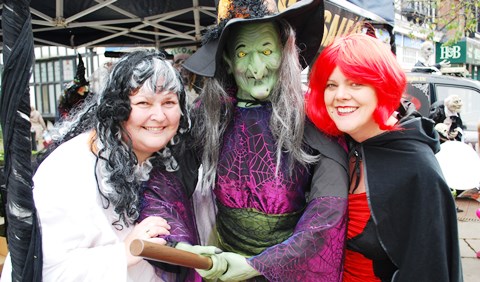 Nantwich shoppers were bedazzled by "witches" selling tickets to a massive community bonfire and fireworks night.
Staff of Blitz Fireworks, in Crewe, were busy dealing with hundreds of people looking forward to Spooktacular 2013 at Dorfold Park.
The £40,000 event this Saturday (October 26), which includes twice as many fireworks as last year, will be set to music and include a show-stopping finale.
Sharron Rhead and Anne Coppenhall, from the Hightown shop, worked with organisers to sell advance tickets on their town square stand.
Mrs Rhead, whose husband Alan is a managing director at Blitz, said: "This will be our biggest ever display and quite a technical feat for our pyrotechnical experts."
More than 3,000 fireworks including cracklers, screamers, falling leaves and busy bees will light up the night sky in a dazzling array of colours – some reaching more than 500ft high.
Other attractions include Punch and Judy, licensed bar, food stalls and a giant TV screen with live interviews and scenes of crowd reaction.
A highlight of last year was the adults and children's fancy dress competition. Trophies will again be presented to the winners and runners up.
John Malam, of Blitz, said: "Blitz has been involved in all of the Halloween firework events at Dorfold Park but this will be our biggest display and a night to remember. Definitely not one to miss."
A free shuttle bus will be laid on to Dorfold Park from Nantwich Civic Hall and Snowhill car-park.
For ticket information visit www.blitzfireworks.com/spooktacular
(Pic: Sharron Rhead and Anne Coppenhall on their Halloween-themed stall selling tickets to the Spooktacular at Dorfold Park, Nantwich)