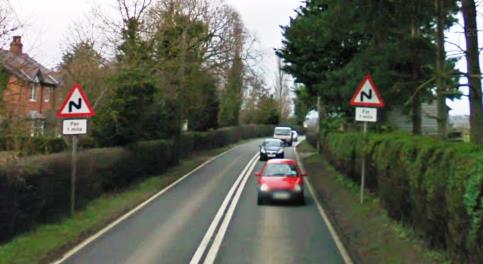 The A530 between Nantwich and Burleydam has been named UK's fifth most dangerous road, a new report has highlighted.
The eight-mile stretch of single carriageway saw 23 fatal or serious crashes between 2007 and 2011, according to latest 5-year figures.
That's an increase on the 21 fatal or serious crashes between 2002 and 2006.
The study, by the Road Safety Foundation, highlights just 26% of incidents between 2007 and 2011 involved motorcycles.
This is far lower than other dangerous roads in the top 10.
Only notorious routes like the 8-mile Macclesfield to Buxton stretch of the A537 are classed as "persistently more dangerous".
Between 2007-2011, 22% of collisions on the A530 stretch, which passes through Sound and Aston, involved pedestrians and cyclists.
And 30% of all incidents took place at junctions.
Overall, 17% of accidents were classed as head-on, while 26% were "roll offs" involved vehicles leaving the carriageway.
Dr Steve Lawson, director of the Road Safety Foundation, said: "Most recent improvement in road safety has come from car design and safer driving.
"The specification that authorities currently set road managers is to reduce crash rates in general.
"That approach is too weak and must be replaced, because it muddles factors over which road managers have no control – such as car safety, hospital care and traffic levels – with factors very definitely under their control such as roadside safety barriers or junction layouts.
"Road managers need not only money, but the tools and goals to measure and manage infrastructure safety.
"Many proposals in government's Action for Roads are sound, but there is need now to focus on improving infrastructure safety itself in a measurable way."
While 99% cent of motorways are rated in the low risk category, 97% of single carriageway A-roads, including the A530, are not.
The Road Safety Foundation survey revealed that 62% of fatal or serious accidents occurred on single carriageway A roads, making them seven times more dangerous than motorways.
(Pic: A530 Whitchurch Road near Nantwich)