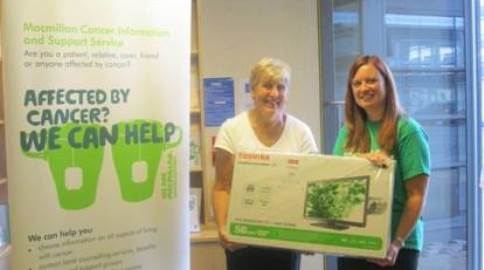 Leighton Hospital teams raised more than £4,000 for Macmillan Cancer Support – the highest of any hospital in Cheshire.
The teams ran various coffee and cake events, to top the Cheshire fund-raising league for the second year running.
The Macmillan Unit also hosted charity stalls and a raffle, with prizes donated by local companies.
The first prize – a combined television and DVD unit which was provided by Thompsons Solicitors in Stoke – was won by Sylvia Pugh from Winterley.
Julie Pieczarka, Macmillan Cancer information and support manager, said: "I would like to thank everybody who attended, donated or gave their time to assist us.
"They all played their part in helping us to raise this great amount for Macmillan, but it wouldn't have been possible without them.
"We were helped significantly by 11 of our Macmillan Unit and Outreach volunteers.
"I would also like to thank all the local companies who donated prizes for our raffle, as their support over the years has helped to make a big difference to the amounts that we have been able to raise each year.
"Every penny raised will make a huge contribution to improving the care and support we can provide to cancer patients, not only locally here in Crewe and the surrounding areas, but also across the country."
Macmillan Cancer Support improves the lives of people affected by cancer, providing practical, medical, emotional and financial support.
For more details visit www.macmillan.org.uk or call 0808 808 0000.
To support the work of Macmillan, contact Sarah Page, fundraising manager for Cheshire, on 07595 243018 or email [email protected]