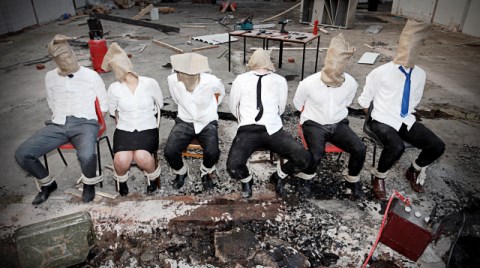 Music fans across Crewe and Nantwich are gearing up for the annual charity gig "Boxjam" – with a mystery local act performing.
The unnamed six-piece group have whipped up an air of ambiguity ahead of the event on November 17.
Boxjam, which helps to raise funds for Crewe's Oxfam store on Victoria Street and the Christie hospital in Manchester, will feature 25 acts in total.
They will join a host of artists, poets – and bellydancers – when it gets into full-swing from midday at The Box, on Pedley Street, Crewe.
Local music fans are urged to keep their eyes on the "Indie At The Box" and "Boxjam" Facebook pages for more revelations on the group.
Organiser Simon Newbury, of Simon J Newbury Photography, said: "I am honoured this new group has chosen Boxjam to launch their material.
"Obviously, I know who is in the band but I would not want to ruin the surprise, which I am sure it will be to many!
"This is the fifth year we have organised Boxjam, and it gives me an immense sense of pride to bring together the best of our local artists to raise money for two very worthy causes. Just under £2,000 has been raised since 2009.
"And with the extra mystery surrounding this year's event, I am certain it could be our best yet."
The full line-up is below (set times subject to change):
Main stage
1pm – Lost in Space
1.50pm – Human Condition
2.40pm – BlueYellows
3.30pm – Interception
4.20pm – Jimmy Dammage
5.10pm – Photobooth Smile
6pm – Secret guests
6.50pm – Orbisounds
7.40pm – Hex
8.45pm – Son of Shinobi
9.50pm – George Borowski
Other stage
12.30pm – Dayve Dean
1pm – Pneumatic Birdbrain
1.30pm – Marc Gallagher
2pm – Ian Scanlan
2.30pm – The Kid On The Wall
3pm – More secret guests (not the six-piece group)
3.30pm – We Are Nomad
4pm – Jim Green
4.30pm – Arms & Hearts
5pm – Baxter
5.30pm – Angus McTwangstick
6pm – Breaking Glass
6.30pm – Emma Corbett Usher
7pm – Rivers & Kelly
7.30pm – Hayley Strangelove
8pm – Oli Ng
Entry is £3, for more information visit www.facebook.com/boxjam or www.theboxcrewe.co.uk