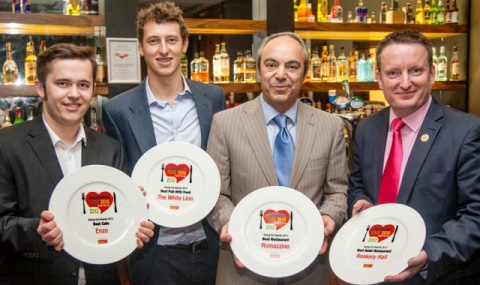 Top eateries across South Cheshire have been rewarded after thousands of diners voted in a Nantwich Food and Drink Festival contest.
The third Dining Out Awards attracted a large crowd of hotel, restaurant, pub and café owners to a presentation ceremony at Rookery Hall Hotel.
And there was success on a plate for the third year running for hosts Rookery Hall which carried off the best Hotel Restaurant prize.
The scheme asked diners to nominate and vote for their favourite venues based on quality of food, ambience and welcome.
Romazzino in Nantwich was named top Restaurant while the White Lion in Hankelow was best Pub with Food.
Best Café food was Enzo in Nantwich and the Taste of Nantwich coffee award went to Harrison's on High Street.
Festival chairman Deborah Robb , a cookery book author, said: "The gastronomic delights of this area are plentiful and as a committee of people dedicated to raising the profile of local food, we were thrilled to see so many people take the time to vote for their favourite eatery on the festival website."
A record 3,000 people logged on to cast their votes in the run-up to this year's crowd-pulling festival.
Fifty dining establishments within a 15-mile radius of Nantwich town centre were nominated.
Plans are already in full swing for 2014 Nantwich Food and Drink Festival  taking place between September 5-7.
Sharn Richards of Harrison's, David Davenport from Enzo, Dominic Heywood of White Lion, Peppe Possente from Romazzino and Stephen Fearnley, of Rookery Hall, all picked up their respective prizes.