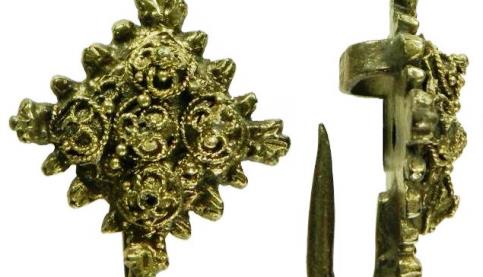 A Tudor cast silver-gilt dress hook has been offered to Nantwich Museum.
The item was found by a metal detector fan at Baddiley, just a few miles from Nantwich.
The brooch was declared treasure when it was found and has been offered to Nantwich as the nearest accredited museum to the find site.
The dress hook, which measures 30mm, weighs 7.9g and contains more than 10% precious metal, is regarded as an excellent example of its type.
It is decorated with five flower motifs and raised pellets with a curved hook on the back.
Such hooks would have been paired with a loop for fixing and typically been a part of female clothing.
It has been valued at £220 and the museum is seeking donations for its acquisition.
Anyone wishing to contribute to the purchase of the dress hook can send cash or a cheque (made payable to Nantwich Museum Trust Ltd) to the museum in Pillory Street, Nantwich CW5 5BQ.
Please enclose a note indicating that the donation is for the Tudor Dress Hook.
Contact Nantwich Museum on [email protected], call 01270 627104, visit www.nantwichmuseum.org.uk