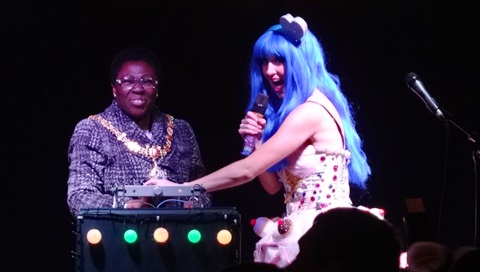 The Crewe Christmas lights switch-on took place on the town square in front of hundreds of excited families.
There was entertainment from Shavington-based jazz musician Tom Seals and Katy Perry tribute K T Perry.
Father Christmas also took time out of his busy schedule to make an appearance last night (November 28).
Mayor of Crewe Cllr Irene Faseyi, assisted by K T Perry, turned on the Christmas lights.
This was followed by a firework display by local company Blitz Fireworks, with rockets launched from the roof of the Crewe Town Clock.
K T Perry sang "Firework" during the display.
There were also children's fairground rides, a candy floss stall and a large outdoor market. Hundreds of local adults and children attended the event.
The switch-on also marked the start of late-night shopping in Crewe over the festive period.
(All pictures courtesy of Jonathan White)