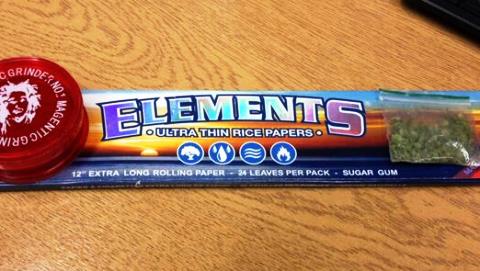 Nantwich Police have been busy cracking down on drug users and thieves – and reuniting lost dogs with their owners!
Operation Washford sees officers from the unit targeting drugs use and target petty crooks in the town and outlying villages.
In the latest incident, a number of men were questioned in Bickerton near Nantwich about possession of cannabis (pictured) last night (December 27).
Other activities have involved using drugs detection dogs from neighbouring Staffordshire Police to check night-time revellers.
The operation is also targeting shoplifters and pick-pocketers in the town which has been busy with Christmas and sales shoppers in the last two weeks.
Insp Dave Smithers said: "It's focused on  providing reassurance rather than arrests, alongside keeping a high profile presence this should reduce the instances of reported shoplifting/pick pockets.
"High visibility patrols throughout the town have provided more support to key locations which could be deemed more vulnerable at this time of year.
"We started on December 9 and to date there have been no arrests or reports of pick pockets/thefts that I am aware of."
Officers have also been active in other areas – including caring for lost dogs.
This gorgeous husky named "Diesel" was a temporary recruit at Nantwich police station in Beam Street last night (December 27) after being found roaming the streets.
But thanks to an appeal on Twitter, which was re-tweeted 250 times in the space of a few hours, she was soon reunited with her owners.
"Looks like our friend 'diesel' has been identified. His owner is aware and arranging to pick him up- great team effort with the retweet," Nantwich Police said.
(pictures courtesy of @NantwichNPU)