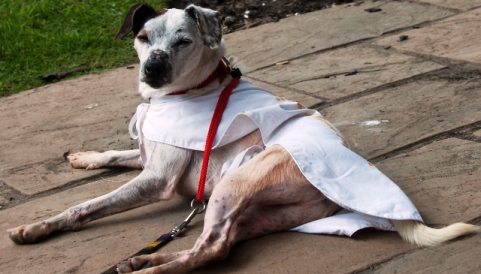 A South Cheshire animal charity is desperate to find a new Nantwich home for this poor dog.
Ten-year-old Paddy has been in kennels for over a year and a half, and now faces being put down.
The Jack Russell cross was brought to Alsager Animals in Need in 2009 after he'd been taken in as a stray by a nearby vets.
"He was very pitiful, with a skin condition," recalls charity spokeswoman Hilary Baxter.
"At first it was thought he had mange, but tests proved he had a hyper sensitivity, making his skin itch, and making him scratch and lick his white fur turning it brown in places – not a pretty sight!
"That, with a scabby nose and ears, completed the picture."
A special diet, medication and bathing by the group returned Paddy to full health and he was found a new home.
"But three years later he was returned to us in a dreadful state again through poor management," added Hilary.
"Once again he went down the path of good diet, medication, and once again enjoying his many trips to the vets.
"This little dog has stolen a piece of my heart. Now we face the question – what will happen to Paddy?
"Is it fair for him to remain in kennels forever? What is the alternative – a quick injection to end it all?
"I am aghast. Paddy still has quality of life and we never have an animal put to sleep if it has that.
"This is why I am appealing for someone to give him a chance. All his vets bills, food is paid by the rescue. We just need someone with a heart to give him TLC on a one-to-one basis."
If you can help, call Hilary on 01270 875260.