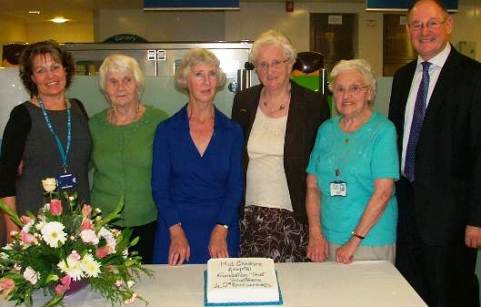 A fund-raising Leighton Hospital group is not taking a decision to axe its charity stall lying down!
Members of Leighton Hospital League of Friends were devastated when trust chiefs said the stall in the main out-patients area had to be closed because of refurbishment.

But the volunteers, who have been operating the stall for over 20 years, are more determined than ever to stage fund-raisers at other venues across Nantwich and Crewe.
Chairman of the group Janet Farrell said it was disappointing to have to close the stall – but revealed plans to expand their service further afield.
"It was a great shame as the league stall has been operating from Main Out-Patients on a weekly basis for over 20 years," she said.
"But we have also been holding coffee mornings (including sales stalls) in the parish rooms in Nantwich twice a year for many years and more recently table top sales in Nanntwich Civic Hall every few months.
"We plan to keep these two events on and hope to hold them more frequently.
"Also we hope to find additional venues to be able to sell fancy goods and handmade items. We have also been negotiating with several other organisations for such opportunities."
All profits made by the League are ploughed into buying new equipment for Leighton Hospital, which made the trust's decision to axe the stall harder to take for some.
Since the League began raising funds in 1973, more than £1.5 million in total has been raised.
"The group will continue as it is," added Janet.
"The hospital shop is our registered office and we now have additional off-site storage to be able to include fundraising items.
"The shop is still our major fundraiser, with all profits going directly to fund projects within the Trusts' hospitals.
"A trolley shop provides an invaluable daily service to all wards selling newspapers magazines, confectionery and many other items.
"Work to improve the main entrance starting early in 2014 will see a new cafe and shop created as well as improvements to the general environment.
"The League will continue to provide the hospital shop service to the Trust in the new shop premises."
The League is currently short of helpers and is keen to enrol new active members.
For details contact Janet Farrell on (01270) 589786 or [email protected]
Anyone interested in finding out more about the League should visit our website at www.leighton-league-of-friends.org.uk