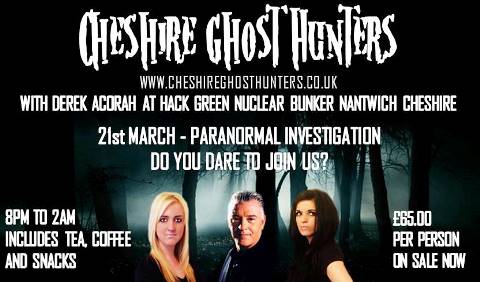 A team of ghost hunters will descend on a well-known Nantwich venue to carry out a paranormal investigation.
Cheshire Ghost Hunters, led by medium Derek Acorah, will be visiting Hack Green Nuclear Bunker for the overnight event on March 21.
And organisers are inviting members of the public to join them for the investigation from 8pm to 2am.
They are keen to explore the various sightings and stories reported at the venue, as well as its secretive past.
Charlotte Unsworth, of Cheshire Ghost Hunters, said: "We have invited the public along with us to try and find some answers regarding the paranormal happenings witnessed by visitors and staff alike and its secretive past.
"Our aim for the night is to split into two teams to conduct some experiments such as Trigger Objects, EVP (Electronic Voice Phenomena) recordings, using the EMF (Electric Magnetic Field) detectors and using thermal imaging cameras
"With Derek as our medium we hope to try and make contact with some of the spirits from the bunker.
"Our investigation will be filmed with the footage shown on Youtube and our website so we can review the footage to see if any evidence has been recorded.
"We want to get the public involved as much as possible and are allowing them to bring some of their own recording equipment.
"There have been many sightings of dismembered body parts sticking out from the floor and the spirit of a lady who is said to have fallen from the top of the staircase to her death and has supposedly been sighted hitting the floor with a loud thud.
"So who knows what to expect on this rare and special paranormal investigation event!"
Tickets are available online at www.cheshireghosthunters.co.uk at £65 per person including tea, coffee and snacks.