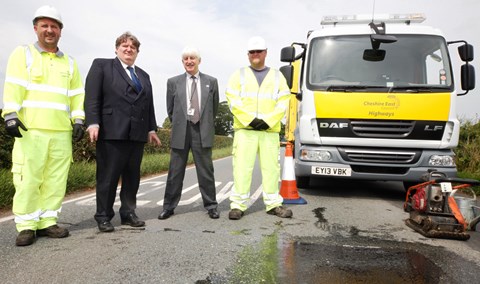 Crewe and Nantwich is to get a "double cash boost" to help blitz the area's pothole-ridden roads.
The Department for Transport (DfT) revealed Cheshire East's share of a £103.5 million pot to deal with the damage caused by severe weather is £1.25 million.
It is an emergency payment to help with road repairs following the wettest winter on record, and will pay for the repair of 3.3 million potholes nationwide.
The Chancellor announced in last week's Budget another £200 million will be provided for pothole repairs over the financial years 2014-16.
The DfT money is being distributed now to ensure repairs can be started as soon as possible. Council chiefs say the majority of the damage could be fixed ahead of the summer holidays.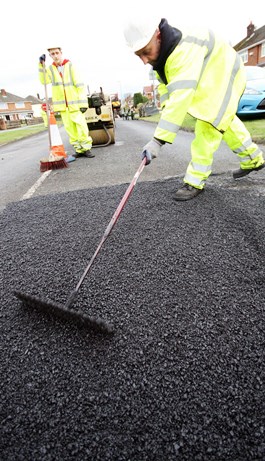 Cheshire East's highways team repaired more than 56,000 potholes in 2013, surpassing the initial 50,000 target.
Cllr David Topping, Cheshire East Council Cabinet member in charge of environment, said: "This is welcome news that will give us extra resources to commit to tackling potholes and improving our roads.
"We expect to have to repair around 27,000 potholes per year but, as our investment in improving the highways continues, this number should fall.
"In addition, the number of customer-reported potholes is down from a peak of 3,640 in January 2013, to around 782 in January 2014, and also similarly we have seen a significant drop in the number of claims received – down from 270 in Jan 2013, to just 34 in Jan 2014.
"However, there is no room for complacency and we will continue to monitor the roads and prioritise works accordingly.
"The Chancellor's announcement that all councils will share in a £200m boost to the money available for pothole repairs is more great news for road users. However, at this time, Cheshire East has not been informed about its share.
"The highways team carries out regular safety inspections and any defects recorded are dealt with quickly. Currently, we get around 400 reports of potholes or defects a week – but the number will fall through spring and summer periods."
To report a pothole or fault on a road, use the online service via the council's website www.cheshireeast.gov.uk, or ring the highways team on 0300 123 5020.