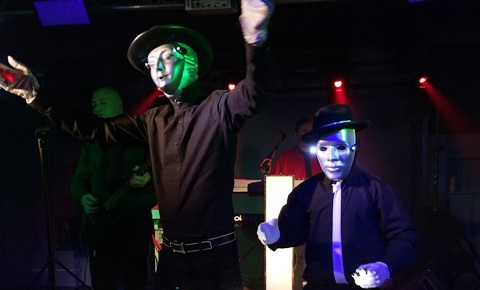 By Jonathan White
Electronica tribute band Electro 80s thrilled fans with a stunning performance at The Studio nightclub in Nantwich.
The two-hour concert set the venue alive with sounds of big 80s electronic bands such as Gary Numan, OMD, Visage, Tears for Fears, A Flock of Seagulls and Kraftwerk.
The concert took place in the music and stage area on the middle level of the venue formerly known as Gregory's, which reopened last year after a major refurbishment.
Other artists' hits to feature in the performance were Howard Jones, Spandau Ballet, Duran Duran, The Human League, Erasure, and Yazoo.
Their show was accompanied by a light display and robotic dancer 'Man O' Chrome' with his protégé 'Little Black'.
The finale was Say Hello, Wave Goodbye from Soft Cell.
(pictures by Jonathan White)