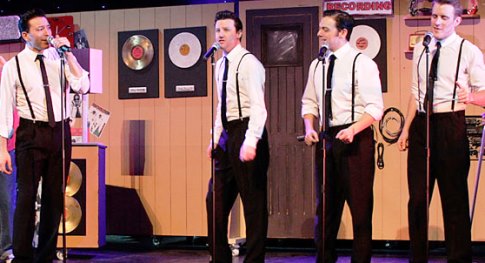 By Claire Faulkner
The audience was promised a night to remember.
One full of sounds, songs and music of Frankie Valli and The Four Seasons at The Lyceum Theatre.
And that's just what we got on the opening night of a five-day stint at the Crewe venue.
New Jersey Nights lit up the stage on their opening night with magnificent style and charm.
Performing classics like Walk like a Man, Sherry, and Big Girls Don't Cry, singers Damion Scarcella, Jon Hawkins, Simon Schofield and William Hazell won the hearts the audience with amazing vocal harmonies.
The sound was technically brilliant, especially the acapella versions of Silence is Golden and Blue Moon.
I can see why New Jersey Nights has been such a success.
And if the standing ovation the cast and crew got from the audience on Tuesday night is anything to go by, then it will continue to be so.
New Jersey Nights is showing at The Lyceum until Saturday April 5.