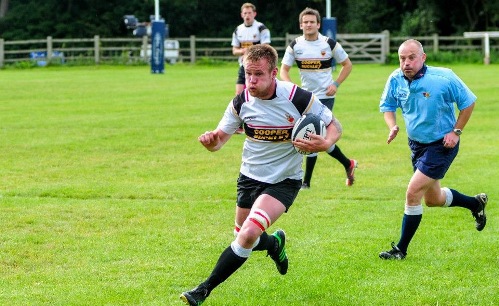 Crewe & Nantwich RUFC 1sts secured their playoff final place with a 29-7 victory away at Stafford.
Now the Vagrants side have one final 80-minute game to try and clinch promotion to their highest level ever.
A win at Stafford was the only result to guarantee the playoff final and coach Andy Brown's team did the business, securing a bonus point running in four tries.
Crewe now play Banbury for a place in Midlands 1 North – the league directly below National League rugby.
The final is on Saturday April 26, kick off 3pm, and Crewe are at home thanks to a superior points difference.
Against Stafford, Crewe started with a long range penalty kick by fly half Jamie Little from just inside the halfway line.
But after 12 minutes and a period of pressure from Stafford, their scrum half broke a tackle and scored a converted try under the posts.
The referee issued a yellow card to flanker Josh Collins (pictured) for persistent offences and Crewe took control.
The forwards produced quality ball and from a quick tap penalty, No 8 Niall McGregor charged towards the line offloading in the tackle to hooker Eli Woodward who set up Matt Standley to score the first try converted by Little.
It gave Crewe a 10-7 half-time lead.
Stafford lost their discipline in the second half but the referee saw both sides at fault and dished out four yellows and a red – Crewe receiving two yellows and a red.
Even then, Crewe dictated the play with Little pinning the Stafford team in their 22 with a series of accurate kicks, turning their tiring forwards.
Left wing Tim Cowap received a kick in on half way and charged into the heart of Stafford defence passing to fullback, Toby Ward, who linked with centre Joe Gammage to score a converted try in the left hand corner.
Then Cowap showed his class as he powered down the right wing demolishing defenders in his wake to score in the corner.
Two yellows were awarded to Cowap and Ward for fighting, and a second yellow to Collins who seemed to be trying to break it up, which resulted in his red card.
With only 12 players left on in the final 10 minutes, Crewe still managed another try from a series of forward drives and No 8 Niall McGregor scored with a conversion by scrum half, Scott Cann.
Coach Brown said: "The last game of the season is against Banbury for promotion – winner takes all!
"The support for the team has been magnificent all season both home and away.
"So, for the last time this season, please come down to the Vagrants and bring family and friends and enjoy the occasion – the players from all teams, the club men behind the scenes and you the supporters are all part of this climax to the season. One big effort from all will hopefully yield the right result."