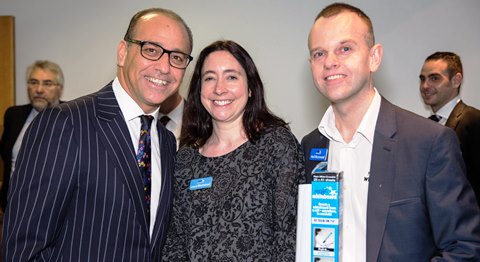 Dragons' Den winners Neil and Laura Westwood were in Nantwich to launch their Magic Whiteboard product backed by Theo Paphitis.
The couple have secured a deal to sell the product in 75 Sainsbury's stores across the UK, including the Middlewich Road store in Nantwich.
Paphitis was also there at the launch for what he has described as "my most successful investment from Dragons' Den".
Along with fellow Dragon Deborah Meaden, he invested £100,000 for a 40% share of Magic Whiteboard.
And it is now their most successful investment with sales of over £1.2 million, exporting to over 20 countries.
"We're excited about expanding across the UK with Sainsbury's," Paphitis added.
Managing Director Neil said: "This is a big moment for us, we are expanding, employing more people and sales are increasing. This deal with Sainsbury's is great news."
Magic Whiteboard allows you to create a portable whiteboard from a roll anywhere, in seconds.
The idea is that it clings using static to a hard flat surface and users can write on with any dry marker, wipe clean and reuse.
Magic Whiteboard is used by students for revising, in offices and children draw on it.