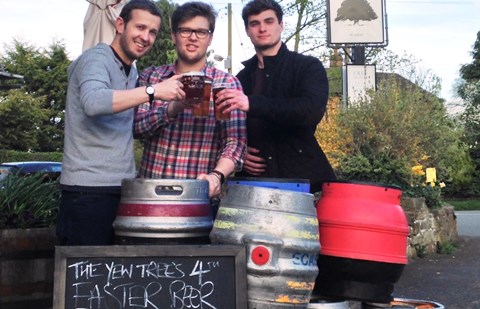 An award-winning Cheshire village pub is rolling out a big Easter beer treat for the Bank Holiday weekend.
The annual festival returns to the Yew Tree Inn at Spurstow, near Nantwich, which has twice been voted 'Pub of the Year' by the Marketing Cheshire Awards.
Twenty real ales from around the country- all new to the bar – will be on offer, and there will be several brews from the new wave 'craft keg' breweries, not often seen outside city bars.
The cask beer list includes several craft brewers across the country such as Anarchy of Northumberland; Shiny of Derby; Hanlons of Devon; Tap East, London; Tickety Brew, Manchester; and Chester's own Pied Bull Brewery.
The keg line up is from London's Beavertown and Fourpure brewers, Magic Rock of Huddersfield and BrewDog, Aberdeenshire.
Yew Tree licensee John Cox said: "Each year we ring the changes so that all the brews are completely new to the pub.
"This list gives us a great choice from light blond ales to darker, sturdier brews. And this year we are to embracing the new 'craft keg' market by introducing more founts to stand alongside our regular taps.
"Brew Dog beers are already very popular and we will build on that. Many of these beers go especially well with dishes on our menu.
"We are passionately dedicated to cask-conditioned ales, but we know that some of customers are keen to try the new craft brews, which are not much available outside specialist city centre bars.
"Often highly hopped and of higher strength they offer an array of stunning flavours.
"They will be available in one third pint glasses so several can be savoured without over doing it.
"So there will be beers for both the adventurous and the more traditional minded beer enthusiast. But above all it will be a fun weekend with informal dining along with live music on two evenings."
The festival runs from Good Friday lunchtime until Easter Monday night.
There will be live music on both Friday and Sunday evenings and a 'surprise' food theme alongside the regular menu.
Entry is free throughout the weekend.
It is the fourth Easter festival since publicans Jon and Lindsay re-launched the abandoned village hostelry in 2010.
Now they have listings with many top pubs and eating out guides, including the Michelin Guide, Sawdays, the Camra Good Beer Guide 2014 and the Good Pub Guide, which hailed the Yew Tree as Cheshire Dining Pub of the Year 2014.
For further information see www.theyewtreebunbury.com